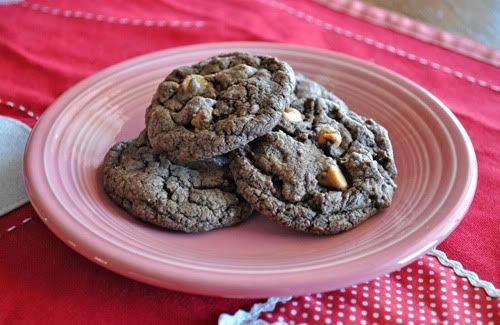 It's World Nutella Day and Sara from Ms Adventures in Italy & Michelle from Bleeding Espresso are at it once again! February 5 is a special day dedicated to celebrating, to getting creative with, and most importantly, to eating that famously wonderful chocolate-hazelnut spread, Nutella.

This year, I decided to stay safe and go the comfortable, familiar route. There's nothing extra-special about these cookies, except that they're just plain yummy. They're sweet with a bit of a salty kick, but they finish out smooth with the peanut butter chips. And because each cookie is only 3 Weight Watchers points, they make for the perfect after-dinner treat!
Nutella PB Cookies
PointsPlus™ Value: 3
Yields: 30 cookies
1-1/3 c all-purpose flour
2 tbsp dark cocoa powder
1/2 tsp ground cinnamon
1/4 tsp baking powder
1/4 tsp baking soda
2 pinches Kosher salt
7 tbsp unsalted butter, at room temperature
5 tbsp + 1 tsp Splenda for Baking
1/3 c light brown sugar, packed
2/3 c Nutella
1/2 tsp vanilla extract
1 lg egg
1/2 c peanut butter chips
Preheat oven to 350 degrees F. Sift together flour, cocoa powder, cinnamon, baking powder, baking soda and salt. Set aside dry ingredients. Cream together butter and both sugars until light and fluffy. Mix in Nutella and vanilla extract, then mix in egg until combined.
Add flour mixture and mix until just incorporated, then gently fold in peanut butter chips. Drop tablespoons of dough 2 inches apart onto parchment paper-lined baking sheets. Bake cookies for about 11 minutes until the edges look set. Cool on baking sheets for 5 minutes, then carefully remove to cooling racks. Cool to room temperature and serve.
~~~
Missed my previous contributions?
World Nutella Day 2010: Chocolate Nutella Fortune Cookies
World Nutella Day 2009: Nutella Palmiers