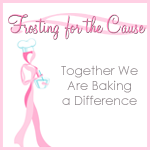 One day out of the year, a blogger guest posts on the Frosting for the Cause site, donates a batch of cookies or cupcakes to a local Women's Hospice and commits to donating $25 to either the Canadian or American Cancer Society to be directed to research projects that are working diligently to find cures specifically for cancers that affect only women. Because of these efforts, we'll raise a total of $9,125 alone for research into this awful disease. Paula of Vanilla Bean Baker is the mastermind behind this amazing project and while I'm just one of 365 bloggers, I'm incredibly humbled to donate my time and funds to this extremely worthwhile cause. Will you join me?
Click over to Frosting for the Cause to read my guest post and see the beautiful, heartfelt sugar cookies I made for our local cancer outreach center.
~~~
I wasn't lucky enough to have met my great-grandmother Ma, but with every chance my dad and aunts get, they remind me of how amazing she was.
She worked as a cook for the local independent school district and made a mean sugar cookie. Every Friday afternoon, the entire family would meet at her house for a huge home-cooked lunch. Grandparents, mothers, fathers, sons, daughters, brothers, sisters, aunts, uncles, cousins, and even friends, would grace the table. Such a lovely tradition… and one I wish my family could continue today.
Below is the recipe book that she filled with family recipes, ones from friends, newspaper suggestions and even top stories from way back when… like Elvis & Priscilla's divorce settlement. Seriously.
It's so neat to read her little notes and see her handwriting. So, when I came across her recipe for Sugar Cookies, I knew that these were the ones I was making for FFtC. She intended them to be drop cookies, and even though I rolled the ones to be donated, I made a batch the way she would want. Without further adieu, here are Ma's famous sugar cookies… copied straight from the book. 😉
Ma's Sugar Cookies
Source: My paternal great-grandmother, Adah Belle
Yields: 50 cookies
1-1/2 c butter
2 c sugar
4 eggs
4-1/2 c flour
1-1/2 tbsp + 1/2 tsp baking powder
1 tsp salt
1 tbsp vanilla
Cream the fat and sugar. Add eggs and beat until well blended. Add flour, baking powder, salt and vanilla to creamed mixture. Stir to mix. Using a No. 40 (1-3/5 tablespoons) scoop, place cookies on a greased baking sheet. Bake at 375 degrees F, 10 to 12 minutes.