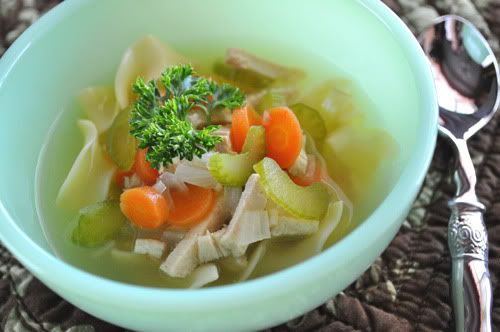 I'm all for helping little animals, so when I read that Branny of Branny Boils Over was hosting a Charity Souper Bowl, where she'll donate $1 to the ASPCA for each soup recipe that she receives, I immediately planned to enter.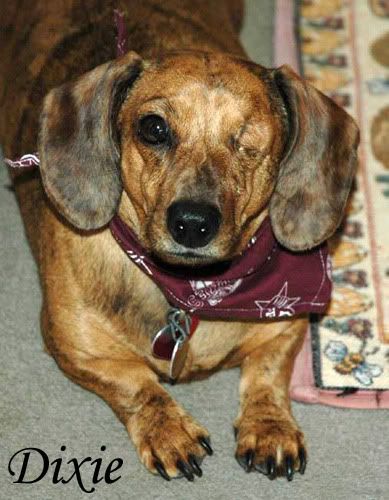 We have two special rescue puppies in our family, one of which saved the life of another of our puppies a few years ago. You may remember me talking about Abbi in this Snickerdoodle post from 2009. Well, Abbi is the puppy that Dixie saved. We're thankful that Dixie's kidney donation gave us another year with Abbi before she passed away… and we're super-happy that she's a part of our family. She's quite the trooper, too – before she was placed in a Dachshund rescue, she lost her left eye when the dogs she was living with attacked her. But, with everything that Dixie's been through, she's one of the sweetest doggies you'll ever meet. Thank you for hosting this awesome round-up, Branny! People like you reinforce my positive thinking on the world.
Now, on to the soup! A common ingredient in Thai cooking, lemongrass provides a zesty lemon flavor and aroma to many Thai dishes. Granted, this isn't exactly Thai cuisine, but it's a yummy soup that's perfect for cold nights and flu season – just think of all the vitamins and minerals you're getting from this soup! And since I recently joined Weight Watchers again, I'm excited that this has such a low point value!
Lemongrass Chicken Soup
Adapted from: Weight Watchers
PointsPlus™ Value: 4
Yields: 4 servings
4 c canned chicken broth, or homemade broth
8 oz cooked boneless, skinless chicken breast, cut into 1/2-inch cubes
1 md carrot, peeled and thinly sliced
1 lg stalk celery, thinly sliced
1 sm onion, finely chopped
1 tbsp fresh lemongrass, finely chopped
1 sm clove fresh garlic, minced
1/2 tsp Kosher salt
1/4 tsp black pepper, freshly ground
1 c cooked egg noodles
1 tbsp fresh parsley, chopped
Place broth, chicken, carrot, celery, onion, lemongrass, garlic, salt and pepper in a large saucepan. Slowly bring to a boil; reduce heat to a simmer and cook until vegetables are tender, about 8 minutes.
Place 1/4 cup of noodles in each of 4 shallow bowls. Ladle about 1 1/2 cups of soup over each serving and garnish with parsley.