I love muffins. Especially lemon variations. I love 'em even more when adding poppy seeds to the mix. Needless to say, I was pretty excited when I saw that this week's TWD pick featured all three of those key words. I even took Dorie's 'Playing Around' suggestion and filled each glazed muffin with a bit of strawberry jam before baking. Yummy! The sweet & tart flavor combo reminds me of Summer… and since it's a chilly 45 degrees around here, that thought warms me right up. 🙂
Plan to grab one (or two) on your way out the door in the morning – they're perfect for a quick breakfast! Big ol' thanks to Betsy of A Cup of Sweetness for hostessing this week. Click over to her blog for the recipe, then check out all the other TWD muffins from the list of bakers here!
Strawberry Jam-Filled Lemon Poppy Seed Muffins (pg. 10)
Adapted from: Baking – From My Home to Yours by Dorie Greenspan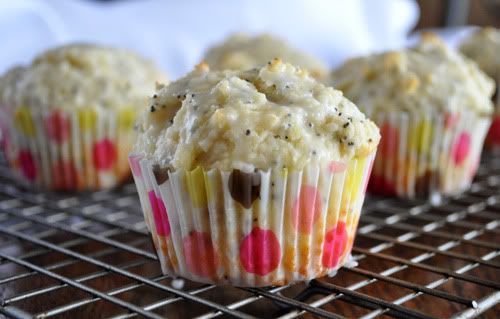 p.s. I'm celebrating MBH's 3rd blogiversary this week! Have you entered my giveaway yet??