Welcome to the party! We've got Snickerdoodle Cupcakes and a gift giveaway!
Three years ago this past Saturday, I wrote my very first post and 'My Baking Heart' was born. I'm still amazed at the sweet friends I've made, the extremely talented professionals I've met and the many opportunities that this blog has brought my way. My kitchen is my haven – I love spending countless hours in there reading cookbooks, trying different recipes, creating new dishes, photographing the results and then reporting back to you on how delicious everything is. The only thing that makes me happier is hearing back from you! So to celebrate this sweet occasion and to say thank you for being so loyal, I'm giving one lucky reader a copy of Martha Stewart's Cupcakes!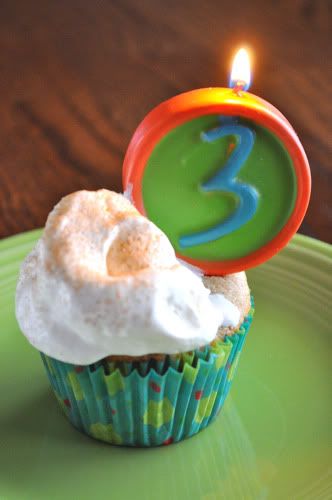 How to enter:
1. (Mandatory) Leave a comment telling me what your favorite thing about 'My Baking Heart' is! Or let me know what you'd like to see here in the future! (one entry)
Leave a separate comment for each additional entry:
2. Subscribe to MBH's RSS feed (one entry)
3. Become a fan of MBH on Facebook (one entry)
4. Follow MBH through NetworkedBlogs (one entry)
5. Follow @hornedfroggy on twitter (one entry)
6. Tweet/blog/facebook about this giveaway and leave the link (one entry for each)
An example tweet: 'My Baking Heart' is celebrating it's 3rd Blogiversary and @hornedfroggy is giving away a copy of MS' Cupcakes! Enter now! http://bit.ly/eKsTim
Giveaway entries close on Friday, January 21, 2011 at 11:59PM CST. Random.org will choose a winner and I'll announce by Monday, January 24.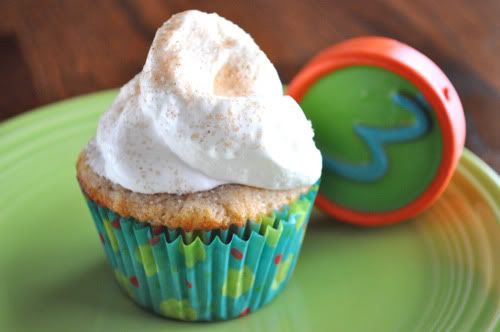 Snickerdoodle Cupcakes with Seven-Minute Frosting
Source: Martha Stewart's Cupcakes
1-1/2 c all-purpose flour
1-1/2 c cake flour, sifted
1 tbsp baking powder
1/2 tsp salt
1 tbsp ground cinnamon, plus 1/2 tsp for dusting
1 c unsalted butter, at room temperature
1-3/4 c sugar, plus 2 tbsp for dusting
4 lg eggs, at room temperature
2 tsp pure vanilla extract
1-1/4 c milk
Preheat the oven to 350 degrees F. Line standard muffin tins with paper liners. Sift together both flours, baking powder, salt and 1 tbsp cinnamon. With an electric mixer on medium-high speed, cream butter and sugar until pale and fluffy. Add eggs, one at a time, beating until each is incorporated, scraping down sides of bowl as needed. Beat in vanilla. Reduce speed to low and add flour mixture in three batches, alternating with two additions of milk, and beating until combined after each.
Divide batter evenly among liner cups, filling each three-quarters full. Bake until a cake tester inserted in centers comes out clean, about 20 minutes. Transfer tins to wire racks to cool completely before removing cupcakes. Cupcakes can be stored up to 2 days at room temperature, or frozen up to 2 months, in airtight containers.
To finish, combine remaining 1/2 teaspoon cinnamon and 2 tablespoons sugar. Using a pastry bag fitted with a large plain tip, pipe frosting on each cupcake. Using a small, fine sieve, dust peaks with cinnamon-sugar. Cupcakes are best eaten the day they are frosted; keep at room temperature until ready to serve.
~~~
Seven-Minute Frosting
1-1/2 c + 2 tbsp sugar
2/3 c water
2 tbsp light corn syrup
6 lg egg whites, at room temperature
Combine 1-1/2 cups of sugar with water and corn syrup in a small saucepan; clip a candy thermometer to side of pan. Bring to a boil over medium heat, stirring occasionally, until sugar dissolves. Continue boiling, without stirring, until syrup reaches 230 degrees F. Meanwhile, in the bowl of a standing electric mixer fitted with the whisk attachment, whisk egg whites on medium-high speed until soft peaks form. With mixer running, add remaining 2 tablespoons sugar, beating to combine.
As soon as the sugar syrup reaches 230 degrees F, remove from heat. With mixer on medium-low speed, pour syrup down side of bowl in a slow, steady stream. Raise speed to medium-high; whisk until mixture is completely cool (test by touching the bottom of the bowl) and stiff (but not dry) peaks form, about 7 minutes. Use immediately.
*Invitation courtesy of thebabygardner.com