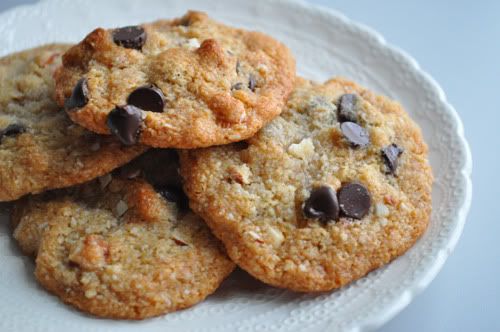 I can't imagine being unable to enjoy any foods that contain wheat, rye, barley or oats. I'm a big fan of oatmeal… and don't forget about those ever-important cakes, cookies and brownies that include flour. So, when my friend Adam, who suffers from Celiac Disease, asked me if I had any yummy Gluten-Free recipes up my sleeve, I was at a loss… I'd never had to worry about feeding someone that was gluten intolerant. I immediately got to work, though, and found these.
Adam complained of not being able to find a sweet treat that actually tasted 'sweet'. And isn't that just awful? These cookies aren't just sweet, but they're incredibly easy to put together, too. It literally takes less than 10 minutes and they're ready for the oven. They actually taste like a chocolate chip cookie and not a piece of flavorless dough. I'd say mission accomplished.
Gluten-Free Double-Almond Chocolate Chip Cookies
Ingredients
2-1/2 c almond flour
1/2 tsp Kosher salt
1/2 tsp baking soda
1/2 c canola oil
1/2 c agave nectar
1 tbsp pure vanilla extract
1/2 c dark chocolate chips
1/2 c almonds, chopped
Instructions
Preheat oven to 350 degrees F. In a large bowl, combine almond flour, salt and baking soda. In a medium bowl, combine canola oil, agave nectar and vanilla extract. Stir wet ingredients into the almond flour mixture until thoroughly combined. Fold chocolate chips and almonds into batter.
Spoon heaping tablespoons of dough onto a parchment paper-lined baking sheet, pressing each down a bit with the palm of your hand to flatten. Bake for 7 to 10 minutes, until lightly golden. Cool cookies on the baking sheets for 20 minutes, then serve.
Adapted from: the Almond Board of California
http://mybakingheart.com/2011/01/10/gluten-free-double-almond-chocolate-chip-cookies/