I'm a huge fan of mushrooms. Always have been, always will be. Even with the resulting migraines that I suffer through after eating those delicious fungi. Case in point: I made this soup for Dad's Wednesday night dinner since Momma G was out entertaining guests. I was craving some of this soup, knowing full well that if I ate any, I'd spend a painful night lulled to sleep by an Axert and two Aleve. It got to me, though. That darn intoxicating smell coming from my dutch oven all evening teased and tempted me, until I finally broke down and devoured two bowls (yes, two). Needless to say, the migraine hit me like a brick, so I swallowed three pills and found my way to bed.
I'm sad to say that I probably won't make this again (for me, anyway). It's super simple, quick to make and I just love Dorie's story about the bowls she enjoys at Les Papilles in Paris. It reminds me of a family friend's mushroom soup – one I enjoyed when I arrived at their Bed & Breakfast late one summer night. As for my photos? It was really hard to capture this soup's beauty. What it lacks by way of color, it certainly makes up for in taste. So, if you're not one to endure migraines, I say give it a shot! It really is a wonderful soup!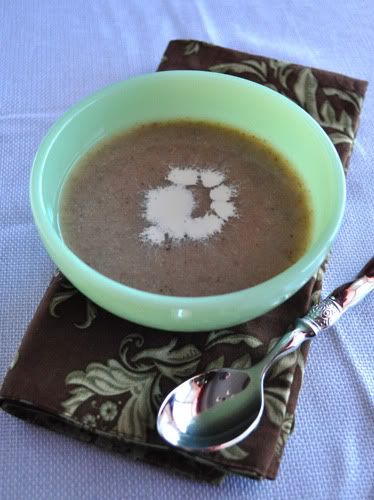 Click over to French Fridays with Dorie for other takes on this yummy soup!
#15 – Paris Mushroom Soup
Source: Around My French Table by Dorie Greenspan