It's the last day of 2010 and I can't believe how incredibly fast it went. Didn't we just begin French Fridays with Dorie?? It seems like yesterday that I opened Around My French Table and drooled with every single page turned. It's been quite a learning experience and I'm so happy with all the new dishes and friends that I've made!
This week features Dorie's Spiced Butter-Glazed Carrots. I was instantly reminded of the carrots Mango used to fix when we'd visit her for dinner. They were one of my favorite dishes and I was excited each time I'd see them on the stove. Dorie's carrots came very close to Mango's and they were a great side to our dinner last night (you know, New Year's Eve-Eve!). Don't forget to see what the other members chose for this last week of December – click over to the site here!
#14 – Spiced Butter-Glazed Carrots (pg. 335)
Source: Around My French Table by Dorie Greenspan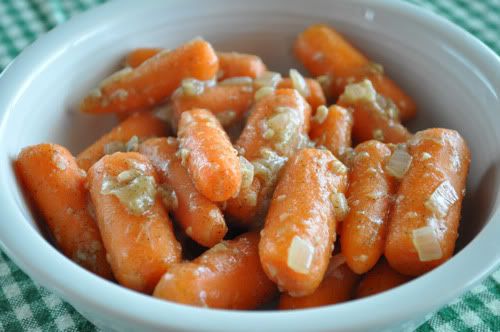 Well, it's time to head back to the kitchen. I'm super-busy cleaning the house and baking goodies for tomorrow's Rose Bowl Party! Expect to see a round-up and all kinds of yummy purple-themed posts next week! Happy New Year, lovely readers – here's to 2011 and GO Frogs!!