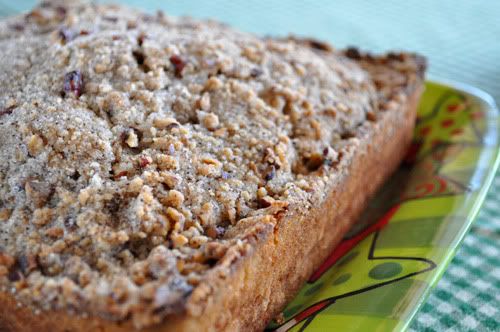 We open on the dining room at C's grandmother's house:
C's Brother: "What type of cake is this?"
Me: "It's a Cardamom Crumb Cake."
B: "A Cardigan Cake?"
M: "No, a CardaMOM Crumb Cake."
Cousin: "A Cardidan Cake?"
M: "No, a CARDAMOM Crumb Cake."
Aunt: "A Card Cake?"
M: "No, a CARDAMOM CRUMB CAKE."
B: "Hey y'all, it's a CRUM Cake."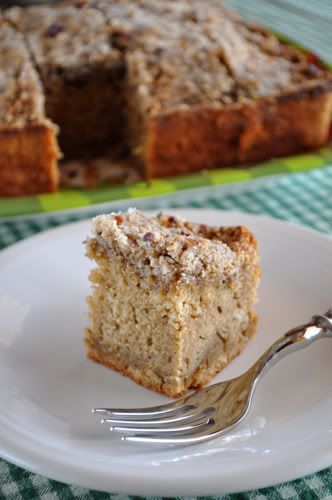 Ah, cardamom. You sneaky spice, you. Rarely showing up in a dish or a dessert, you always pack a major (and sometimes unpronouncable) punch when you do. I love you, though, really & truly. And I was super excited that you were the star in this week's pick. You made the cake evoke a spiciness and warmth that is perfect during a family get-together… especially at this time of year. So, from now on, you're lovingly referred to as the 'Cardigan' Cake.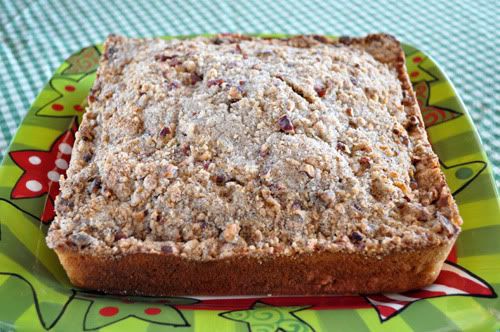 Many thanks to Jill of Jill's Blog for this Christmas-time pick! You can find the recipe on her blog and a link to the many other crumb cakes on TWD's site. Merry Christmas!!
Cardamom Crumb Cake (pg. 38)
Source: Baking – From My Home to Yours by Dorie Greenspan