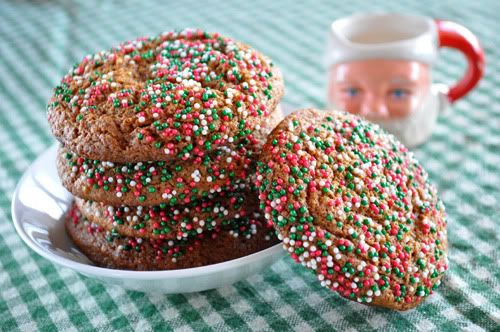 Moe's most favorite thing in the world was a gingersnap. We'd make special trips to the grocery store just to buy those crunchy cookies in a brown paper bag. Remember those? Mango kept a brass cookie jar on the counter in the corner of the kitchen and as soon as her back was turned, I'd find my grandfather sneaking four or five cookies out of there just as soon as we were home from the store.
He even made a special trip to The Grasmere Gingerbread Shop in Grasmere, England to buy some of Sarah Nelson's 'Original Celebrated' Gingerbread… of course, they were already there, but he HAD to stop in. They've been making gingerbread there for close to 160 years!
So these gingersnaps? They taste just like the ones in the paper bag. Not as crunchy, but definitely much better for you! Moe would've been proud of 'em… and there wouldn't be a single one left in that cookie jar. 🙂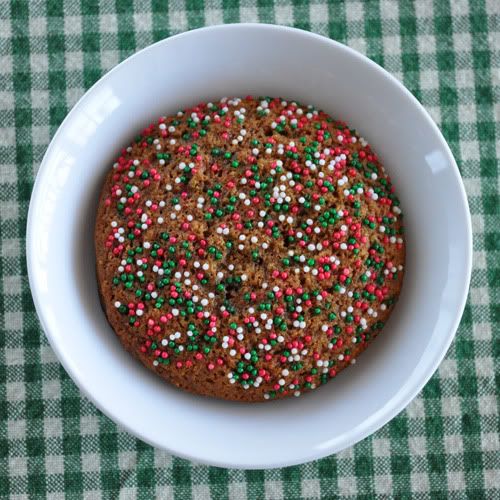 Whole-Grain Gingersnaps
Adapted from: Good Housekeeping
2 c all-purpose flour
2 c whole wheat flour
2 tbsp ground ginger
1 tsp ground cinnamon
2 tsp baking soda
1 tsp salt
1 c sugar
3/4 c unsalted butter, room temperature
2 lg eggs
1 c dark molasses
Nonpareils
In a medium bowl, whisk together both flours, ginger, cinnamon, baking soda and salt until blended. In a large bowl, with hand mixer on medium to high speed, beat sugar and butter together until light and creamy, scraping down the bowl as necessary. Beat in eggs and molasses. Then on low speed, blend in flour mixture. Cover dough and refrigerate for 1 hour – dough will be sticky, this makes it easier to handle.
Preheat oven to 350 degrees F. With greased hands, shape dough into 1-inch balls. Dip the tops of the balls into nonpareils; place balls 2-1/2 inches apart on a baking sheet lined with parchment paper. Bake cookies until tops are slightly cracked, 9 to 11 minutes. Cookies will be very soft, so cool on the baking sheets for 1-2 minutes after removing from oven. Then transfer cookies to a wire rack to cool completely. Store in an airtight container at room temperature up to 3 days or in the freezer up to 1 month.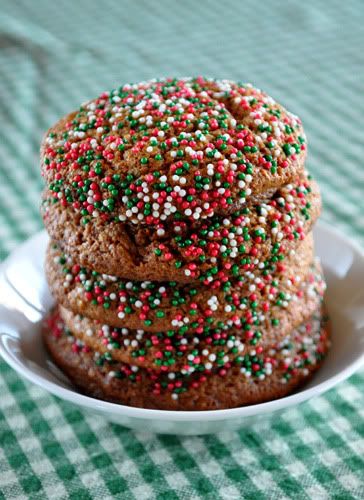 p.s. Happy 60th Birthday, Daddy! 🙂