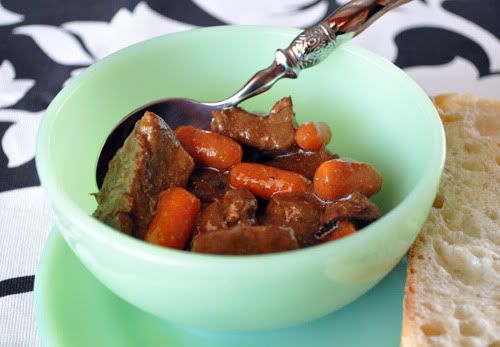 Picture a roaring fire, blankets piled on the couch, a cold night where the low is 28 and it's time to prepare dinner. What to make? This French beef stew by Dorie Greenspan. Welcome to Week 11 of French Fridays with Dorie!
Absolutely perfect on a chilly Monday night. The beef was tender, the vegetables were tasty and that sauce… oh my gosh! So flavorful, I could've had a cup of it on it's own. I shared this with my parents and we all loved it – even Momma G, who doesn't like the taste of wine in soups and stews. Way to work your magic, Dorie! I'm inexplicably late in decorating the house for Christmas, so while the daube simmered away, I had a couple of hours to unpack things and set them up. Thank goodness, because it might never have happened were it not for this dinner!
As for order, we're mixing things up again in December. We've got five recipes and can make them in any order we choose. Want to see what the others made this week? Click on over to FFwD now!
#11 – My Go-to Beef Daube (pgs. 244-245)
Source: Around My French Table by Dorie Greenspan