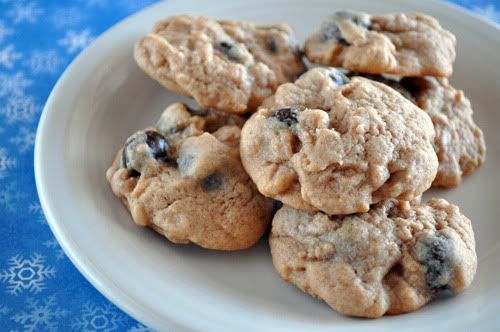 To the naked eye, these may just look like plain ol' chocolate chip cookies. But guess what? There's a surprise hidden inside each of those chocolate chunks… pomegranate seeds! Yes, chocolate-covered pomegranate seeds. I saw these and immediately grabbed them up – knowing exactly what I was going to do with them. Each seed is encased in dark chocolate, then wrapped in a cinnamon-sugar dough and baked for a few minutes to produce a soft and chewy, yet perfect cookie for Christmas. And the name "Holly Jolly Cookies" put me in the Christmas spirit. It was either that or "Cinnamon-Sugar Cookies studded with Dark Chocolate-Covered Pomegranate Seeds". A little long, don't ya think? 🙂 It's difficult to see the berry-red color of the pomegranate seed in the picture, but trust me, it's there… and it packs a tart little punch once you've bitten in to it!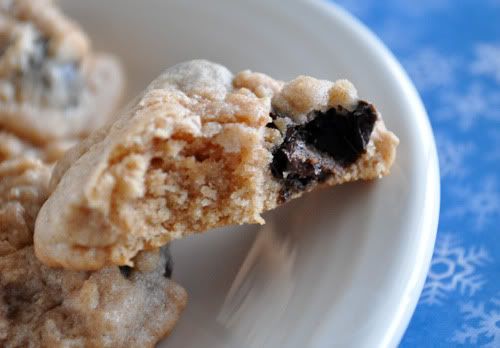 Holly Jolly Cookies
Adapted from: Grandma's All-Occasion Sugar Cookies by Dorie Greenspan
1 c all-purpose flour
1/4 tsp salt
1/4 tsp baking powder
1 tsp ground cinnamon
5 tbsp unsalted butter, at room temperature
1/2 c sugar
1 lg. egg
1/2 tsp vanilla extract
3/4 c dark chocolate-covered pomegranate seeds
Whisk the flour, salt, baking powder and cinnamon together. Working with a stand mixer, preferably fitted with a paddle attachment, or with a hand mixer in a large bowl, beat the butter at medium speed for a minute or so, until smooth. Beat in the sugar and continue to beat for about 2 minutes, until the mixture is light and pale. Add the egg and beat for another minute or two, then beat in the vanilla. Reduce the mixer speed to low and steadily add the flour mixture, mixing only until it has been incorporated – because this dough is best when worked least, you might want to stop the mixer before all the flour is thoroughly blended into the dough and finish the job with a rubber spatula. Add in the chocolate-covered pomegranate seeds and gently mix them in. When complete, the dough will be soft, creamy and malleable. Cover the bowl, pressing a piece of plastic wrap against the surface of the batter, and refrigerate for at least 2 hours. (Well wrapped, the dough can be refrigerated for up to 3 days or frozen for up to 2 months.)
Center a rack in the oven and preheat to 350 degrees F. Line two baking sheets with parchment paper and set aside. Scoop about 2 tablespoons of batter out of the bowl and drop onto baking sheets leaving approximately 2″ of space between the cookies. Bake one sheet at a time for 9 to 11 minutes. The cookies should feel firm, but they should not color much, if at all. Remove the pan from the oven and dust with cinnamon-sugar, if you'd like. Let them rest for 1 minute before carefully lifting them onto a rack to cool to room temperature. You'll have approximately 24 cookies.