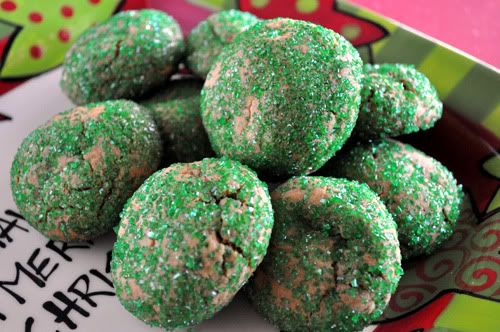 December 1st: you've arrived and I'm wondering where the rest of 2010 ran off to. Is it just me or did the past 334 days completely fly by? It's already time again for heavy coats, scarves and gloves. Snow, sleds and sleigh rides. Christmas trees, lights and carols. Shopping, wrapping paper and gifts. Parties, appetizers and cocktails. Hot cocoa, candy canes and COOKIES!! Yes, they're one of my favorite parts of the Christmas season! The endless amount of cookies with all those different flavors, colors and decorations just gets me all excited! How could it not?
So to start off this glorious time of year, I made a batch of the BEST gingerbread cookies in the world. Well… maybe not the world, but certainly around these parts. They're soft and chewy (hence their name) and they just melt in your mouth. Momma G made these when I was younger and my grandfather would eat entire batches of them. They're that good… especially rolled in turbinado sugar (green, of course, in keeping with the Christmas spirit)! You can always leave them plain, but where's the fun in that? 🙂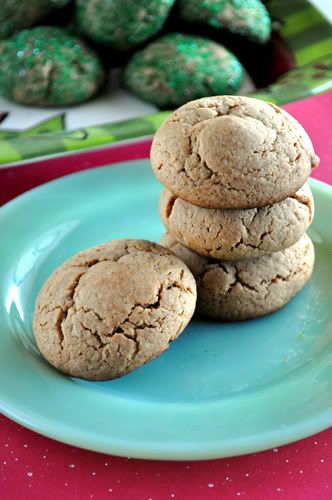 Soft & Chewy Gingerbread Cookies
Ingredients
2-1/4 c all-purpose flour
1 tsp baking soda
1/4 tsp Kosher salt
2 tsp ground ginger
3/4 tsp ground cinnamon
1/2 tsp ground cloves
3/4 c unsalted butter, at room temperature
1 c granulated sugar
1 lg egg
1/4 c molasses
Turbinado sugar
Instructions
Preheat oven to 350 degrees F and line a baking sheet with parchment paper or a silicone mat. In a medium bowl, whisk together flour, baking soda, salt, ginger, cinnamon and cloves.
Then in the bowl of a stand mixer with the paddle attachment, cream the butter and sugar together until light and fluffy. Scrape down the sides, then beat in egg and molasses.
Gradually add the dry ingredients to the butter mixture and mix well. Roll into 1-1/2" balls and coat in turbinado sugar.
Place balls about 2" apart on the prepared baking sheet and bake for 10-12 minutes, or until puffy, cracked and lightly browned. Remove from oven and cool completely on a wire rack.
Adapted from: Momma G
http://mybakingheart.com/2010/12/01/soft-chewy-gingerbread-cookies/