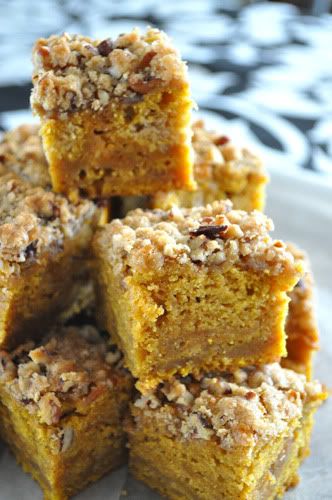 Oh, happy day!! The copyright fight is over and I won! The post was removed and I received a nice apology email from the editor, claiming that it was an honest mistake and that it won't happen again. It's also the day before Thanksgiving, which has me thinking of everything in my precious life that I'm thankful for… a supportive family, dear friends, inspiring foodie pals, a challenging job and a sweet, thoughtful (and very helpful!) boyfriend (who brings along with him another incredible family).
So, in honor of Thanksgiving and all that it encompasses, I came up with these Streuseled Caramel Pumpkin Blondies. I've wanted to make pumpkin blondies forever, but it seemed that they'd been done to death. But while I was thumbing through cookbooks and browsing blogs, I wondered why I couldn't mix up a few recipes and make it unique. These blend together Dorie's streuseled topping & caramel sauce from her Caramel Pumpkin Pie and an adaptation of The Joy of Cooking's Pumpkin Blondie. Incredibly moist and sweet, just perfect for Thanksgiving dessert! Without further adieu, I give you the Streuseled Caramel Pumpkin Blondie…
Streuseled Caramel Pumpkin Blondies
Ingredients
For the blondies:

1 c all-purpose flour
1/4 tsp baking powder
1/8 tsp baking soda
1/8 tsp Kosher salt
1-1/2 tsp pumpkin pie spice
8 tbsp unsalted butter, at room temperature
1/3 c light brown sugar, firmly packed
1/3 c dark brown sugar, firmly packed
1/4 c granulated sugar
1 lg egg + 1 extra yolk
1 tbsp pure maple syrup
1-1/2 tsp pure vanilla extract
1 c pumpkin puree
Caramel sauce
Streusel topping

For the caramel sauce:

1/2 c granulated sugar
3/4 c heavy cream
2 tbsp dark rum, cognac, or apple cider
2 tbsp unsalted butter, cut into 4 pieces

For the streusel topping:

2 tbsp all-purpose flour
2 tbsp light brown sugar, firmly packed
2 tbsp chopped pecans
2 tbsp unsalted butter, cold
Instructions
Put the streusel topping together by mixing all of the ingredients together with a pastry blender or your fingers until crumbly. Refrigerate until ready to use.
Make the caramel by sprinkling the sugar evenly over the bottom of a large nonstick skillet. Place the skillet over medium-high heat and staying close by, cook until the sugar melts and starts to color. Once you see a little color, gently swirl the skillet so that the sugar colors evenly. Cook the sugar, without stirring, until it turns a deep amber. The sugar will bubble up and foam and soon it will start to smoke. It is very dramatic, and it might make you think you've gone too far, but you want a dark (though not burned black) color. The darker the sugar, the fuller the flavor. When the bubbles have gone from foamy to big and fat, you will probably have reached the right color. To check the color, drop a bit of the caramelized sugar on a white plate. Lower the heat to medium, stand back and pour the cream into the skillet. The sugar will bubble and hiss and, if the cream was cold, it may even clump. Just continue to cook, stirring, and it will even out. Add the rum (or cider) and butter and cook just until the caramel is smooth. Pour the caramel into a heatproof pitcher or bowl and cool it for about 15 minutes.
Preheat oven to 350 degrees F. Make a sling out of two pieces of aluminum foil and line a 8×8 baking pan with it. Spray with cooking spray and set aside. Whisk together flour, baking powder, baking soda, salt and pumpkin pie spice - set aside. In a medium heavy-bottomed saucepan, melt 8 tablespoons of butter over medium-low heat and simmer until it's just light brown in color, about 7 minutes. Remove from heat and stir the sugars into the butter. Set aside to cool for a few minutes.
Whisk whole egg, egg yolk, maple syrup and vanilla extract into butter/sugar mixture until completely incorporated. Stir dry ingredients into wet mixture in 3 parts, folding each addition in until almost completely incorporated. Gently stir in the pumpkin and caramel until just incorporated. Spoon batter into prepared pan and bake for 10 minutes. Scatter chunks of streusel over the top, gently pressing the pieces down a bit, and continue baking for another 25-30 minutes, when a toothpick inserted into the middle comes out clean or until the blondies have a cakey look.
Inspired by: Dorie Greenspan's Streuseled Caramel Pumpkin Pie and The Joy of Cooking
http://mybakingheart.com/2010/11/24/streuseled-caramel-pumpkin-blondies/
If you haven't entered, what are you waiting for? A $55 CSN gift certificate is up for grabs – contest ends Monday, November 29, so enter now! 🙂
Happy Thanksgiving, dear MBH readers!!