Ever had content or photos stolen from your blog… only to be published on another that does not cite you, nor link back to you? It happened to me yesterday (and sadly, not for the first time either). I took immediate action, though, and emailed the 'contact' that was listed on the page. I also left a message on their facebook wall underneath the advertisement of the post. Incredibly, said site continues to gain followers on an hourly basis at an outrageous rate, as well. How do I know this? I'm stalking their facebook wall to see if I ever get a response… sad (and maybe a little obsessive), but true. The silver lining in this cloud? My sweet (uber-smart, computer geeky) boyfriend, C, who called to give me a pep-talk on copyright infringement. I just love this boy. 🙂
But even though I was consoled by his uplifting (stand up and fight!) words, I needed another pick-me-up. And then I heard it… chocolate was calling my name. I knew that I'd be making Dorie's Perfection Pound Cake for this week's TWD rewind. So, lucky for me I noticed a cocoa variation in the 'Playing Around' section. And yes, it was perfection. Chocolate perfection. A light, tender crumb with that smooth chocolatey goodness. It was so yummy, I almost forgot about the offenders and their blatant stealing… almost.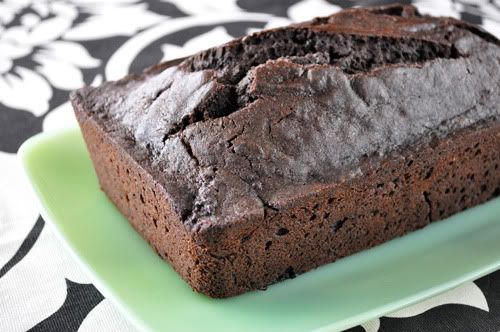 Cocoa Pound Cake (pgs. 222-223)
Source: Baking – From My Home to Yours by Dorie Greenspan
1-2/3 c all-purpose flour (or 1-3/4 c cake flour)
1/2 c dark cocoa powder
1 tsp baking powder
1/4 tsp salt
2 sticks unsalted butter, softened
1 c sugar
4 lg. eggs, room temperature
1 tsp vanilla
Center a rack in the oven and preheat the oven to 325 degrees F. Butter a 9×5-inch loaf pan or an 8-1/2 x 4-1/2-inch loaf pan. Put the pan on an insulated baking sheet or on two regular baking sheets stacked one on top of the other. Whisk together the flour, cocoa powder, baking powder, and salt.
Working with a stand mixer, preferably fitted with a paddle attachment, or with a hand mixer in a large bowl, beat the butter and sugar on high speed until pale and fluffy, a full 5 minutes. Scrape down the bowl and beater and reduce the mixer speed to medium. Add the eggs one at a time, beating for 1 to 2 minutes after each egg goes in. As you're working, scrape down the bowl and beater often. Mix in the vanilla extract. Reduce the mixer speed to low and add the flour, mixing only until it is incorporated – don't overmix. In fact, you might want to fold in the last of the flour, or even all of it, by hand with a rubber spatula. Scrape the batter into the buttered pan and smooth the top.
Put the cake into the oven to bake, and check on it after about 45 minutes. If it's browning too quickly, cover it loosely with a foil tent. If you're using a 9×5 pan, you'll need to bake the cake for 70 to 75 minutes; the smaller pan needs about 90 minutes. The cake is properly baked when a thin knife inserted deep into the center comes out clean. Remove the cake from the oven, transfer the pan to a rack and let rest for 30 minutes. Run a blunt knife between the cake and the sides of the pan and turn the cake out, then turn it right side up on the rack and cool to room temperature.
Wrapped well, the cake will keep for 5 to 7 days at room temperature (stale cake is great toasted) or up to 2 months in the freezer.
~~~
p.s. Don't forget to enter my giveaway, if you haven't already! You've got up to 5 chances to win a $55 gift certificate from CSN stores… perfect for Christmas shopping! 🙂