Remember the Ginger Custard Pumpkin Pie from two weeks ago? I ended up with an extra pie crust laying around from that recipe and decided to use that instead of making up Melissa's Chocolate Pie Crust. However, karma is a real B. The Pie Gods were not smiling down on me when I made this one. The crust shrunk not just once, but twice, and the filling overflowed and baked onto the underside… resulting in a somewhat weird 'reverse pie'. This slice is the only decent one I could salvage from the plate. Luckily for me, Momma G and Dad don't care what delicious things look like… especially if said dish contains Dad's favorite bourbon.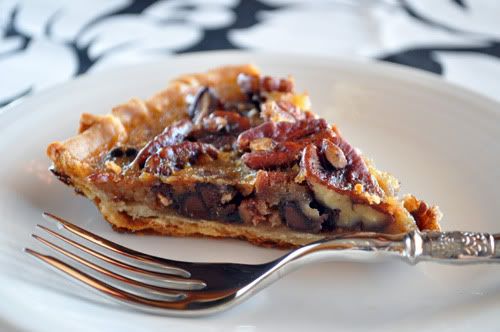 Moral to the story? Use the pie crust that's called for… and invest in an industrial-strength dishwashing brush. 🙂
Many thanks to Jennifer of Maple N' Cornbread for hostessing this week – check her blog for the recipe! To browse the other (prettier) Chocolate Bourbon Pecan Pies that were made this week, head over to Sweet Melissa Sundays for a list of bakers!
Chocolate Bourbon Pecan Pie (pg. 193-194)
Source: The Sweet Melissa Baking Book by Melissa Murphy