Hooray for BAKED Sunday Mornings! Yes, that's right… I've joined yet another baking group. 🙂
Crazy, much? Well, when I read that Sandy of Seattle Pastry Girl was creating a new bake-along group to celebrate those BAKED boys, I jumped in head-first. How could I resist? I met Matt & Renato about a month ago during their book tour stop in Dallas and I fell in love. I'd already owned their first book, Baked: New Frontiers in Baking, so it was a given that I'd get the second one. And what luck that this is the book we're baking from?
If you need an incredibly delicious and insanely decadent breakfast treat, then look no further. Baked's Nutella Scones are out of this world. What better way to enjoy breakfast (or a late night snack, if you're like me) than with Nutella? Sinful, if you ask me. And on Sunday, no less! 😉 Unlike other scone recipes, this dough is spread with Nutella in a cross-hatch pattern, then rolled up into a cylinder, turned on it's end and patted down into a round circle, ready for cutting. Some of the Nutella oozed out as I was shaping the dough, but no bother. That's what makes them so pretty!
Don't hesitate to try these. Run out and buy Baked Explorations now and get to work – then join our new group and bake along with us! Want the recipe? Click over to the 'Leave-Your-Link' post featuring these and you'll find it. And while you're there, don't forget to browse all the other scones that hit the blogging world today!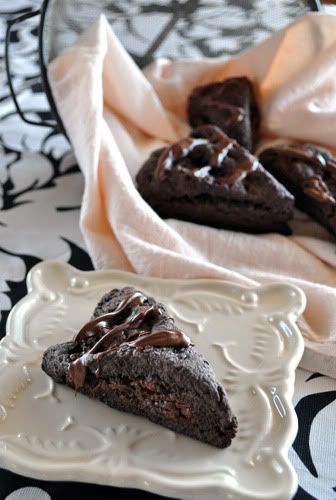 #1 – Nutella Scones (pg. 30)
Source: Baked Explorations by Matt Lewis & Renato Poliafito