As I was making the big decision on what to choose during my turn as TWD hostess back in June of '08, this tied with the Parisian Apple Tartlets. I'm almost sad that I didn't pick this instead because I loved it so much!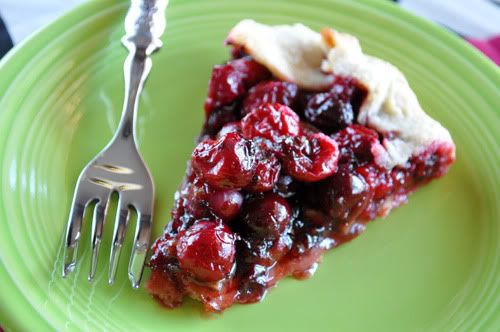 Not only is it gorgeous, but it tastes wonderful, too. I've read that a few bakers disliked the tartness, but I actually doubled the amount of lime that Dorie calls for and almost ate the entire thing. It was that good. Luckily, I didn't… I ended up taking the rest to work and pawning it off. J out in the warehouse is great about taking stuff off my hands! 🙂
Many thanks to Whitney, April & Elizabeth of Celestial Confections for such a yummy choice! Click over and find the recipe on their blog, but don't forget to browse those other Galettes! You can find a list of bakers that participated this week here!
Cranberry Lime Galette (pgs. 364-365)
Source: Baking – From My Home to Yours by Dorie Greenspan