That's right. Today is National Bundt Day. So, what was I to do when I read that Mary of The Food Librarian was hosting a round-up celebrating this most awesome day? Make a Bundt… a big Bundt, 'cause… I like big Bundts and I cannot lie! (Come on, you knew I'd throw it in somewhere). 🙂
I chose this Honey Streusel Bundt because I've had it marked to try for over a year. And since I was attending an EK meeting that needed a sweet treat, this was perfect. I even used my heart-shaped bundt pan! It might not be a traditionally shaped Bundt, but it's one of my favorites to make. Hearts have been special to me my entire life and it's always perfect for those meetings… one of our symbols is a heart, after all.
This Bundt is great any time of the day. Breakfast, lunchtime snack, dessert after dinner, you name it. And the streusel just takes it over the top. Want a rich, warm, cinnamony feeling? You've found it here!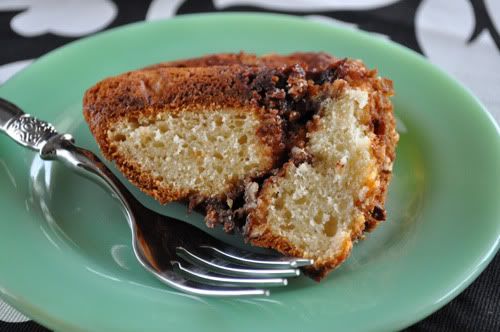 Honey Streusel Bundt
Adapted from: Stonyfield Farm Yogurt Cookbook
Cake:
1/2 c unsalted butter, at room temperature
1 c sugar
2 eggs
1-1/4 c Oikos Organic Greek yogurt, Honey flavor
1 tsp vanilla extract
2 c all-purpose flour
1/2 tsp baking soda
1 tsp baking powder
1/2 tsp salt
Streusel:
1/2 c light brown sugar
2 tbsp all-purpose flour
2 tsp cinnamon
2 tbsp butter, melted
1/2 c chopped pecans
Preheat the oven to 350 degrees F. Grease and flour a 10-inch Bundt pan. In a large mixing bowl, cream the butter and sugar. Add the eggs and mix well. Add the yogurt and vanilla; stir to combine. In a separate bow, sift together the flour, soda, baking powder, and salt. Add to the butter mixture and mix well.
To make the streusel, mix the brown sugar, flour, cinnamon, and butter until all the ingredients are combined and damp. Stir in the pecans.
Put half the cake batter in the Bundt pan. Spread half of the streusel mixture over this. Add the rest of the cake batter, then sprinkle the remaining streusel on top. Bake the coffee cake for 40 minutes. Let it cool in the pan for 10 minutes before turning it out onto a rack to cool further.