The name above most definitely suits this recipe. In case you're not hip to the French language, 'les paresseux' ultimately means 'the lazy'. And this dish is nothing, if not fit for the lazy… especially for this gal. I arrived home from work at 5:30p to have roast chicken and vegetables on the table two hours later. I oiled up the Le Creuset, placed the slices of bread on the bottom (my yummy garlic-infused Italian bread from yesterday!), seasoned the chicken and chopped the veggies – only 20 to 30 minutes of prep and into the oven it went. An hour and a half later, it was ready. Easy, right?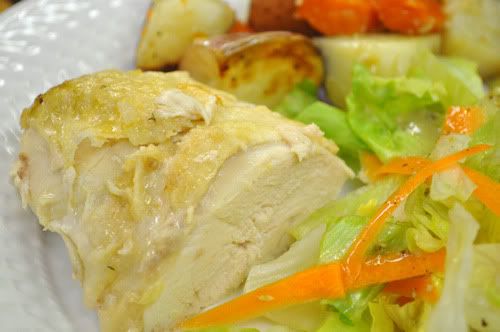 Easy and good… if you can get past the liver and insides. Dorie mentions that if your chicken comes with a liver, to leave it inside while cooking. And for some strange reason, I felt the need to reach into the cavity and find out if it was there… and I almost gagged. Yes, touching things like this grosses me out. This is why I'm a baker. Flour is never slimy. Don't judge me. 🙂
That bread, though? It's what grease-soaked love tastes like. The fat from the chicken soaks into the bread while it cooks and the result? Crispy, crunchy ecstacy. Seriously, the bread might just be the best part.
If you haven't joined us yet, what are you waiting for? All of us in French Fridays with Dorie would love to have you! We cook from Dorie's newest book, Around My French Table, and it's still on sale! You need this cookbook in your library… trust me!
#7 – Roast Chicken for Les Paresseux (pgs. 200-201)
Source: Around My French Table by Dorie Greenspan