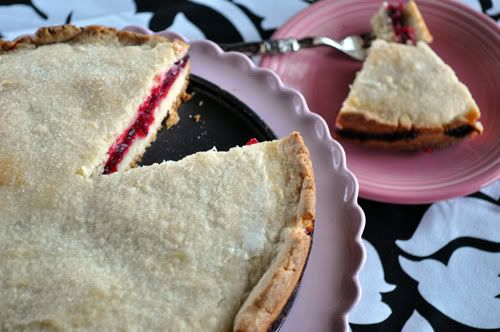 Even though we've barely made it past Halloween and Thanksgiving is on the horizon, Dorie's Cranberry Shortbread Cake has me all giddy with the Christmas spirit. For some reason, eating a slice of this puts my teenage-self back at Mango's table, eating a Christmas Eve dinner surrounded by parents, grandparents, aunts, uncles, cousins and family friends. The scratch cranberry jam is sweet and just tart enough. It's like eating a big ol' sugar cookie sandwich with cranberry preserves slathered in the middle!
Warm it up for 15-20 seconds in the microwave and top it with a scoop of vanilla bean ice cream – whoa boy! It was so good, that I'm pretty sure that it will be making another appearance next month! By the way, it's always fun when you and the TWD host share such a fabulous name! 🙂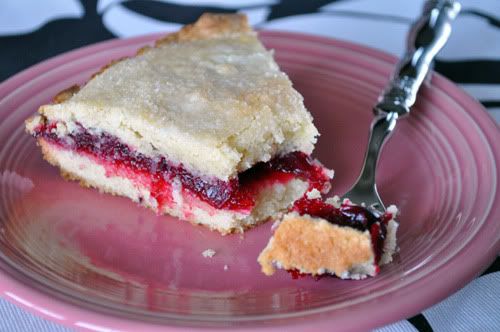 Many thanks to Jessica of Singleton in the Kitchen for such a fun pick (I love this gal!)! The recipe is listed on her blog and the other TWD Cranberry Shortbread Cakes can be found by clicking here!
'Not-Just-for-Thanksgiving' Cranberry Shortbread Cake (pgs. 208-209)
Source: Baking – From My Home to Yours by Dorie Greenspan