Guess what time it is? Yes, time for more pumpkin! And really, who can get enough pumpkin pie?? This round, it's a Ginger Custard Pumpkin Pie, by Melissa Murphy. With all these variations, I've definitely changed my feelings on pumpkin pie. I was never a huge fan, but when you pair it with rich Fall flavors such as caramel, ginger or maple, it can change anybody's mind!
Melissa's recipe calls for a 10″ pie plate, but all I had was a 9″, so I obviously wound up with extra filling. And what am I to do with all that, but make four little custard cups for later! Perfect for a quick snack after the pie is all gone! 🙂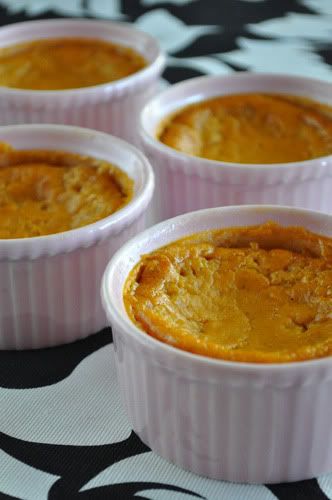 Many thanks to Debbie of Every Day Blessings of The Five Dee's for this week's choice. It was phenomenal! 🙂 Check her blog for the recipe and see other 'Sweet Melissa Sundays' pies here!
Ginger Custard Pumpkin Pie (pgs. 196-197)
Source: The Sweet Melissa Baking Book by Melissa Murphy