As if I haven't posted enough pumpkin recipes this month, here's one more. I just can't get enough pumpkin at the moment and I absolutely loved these cookies! Unbelievably quick and easy, they're perfect for a quick snack or even as a prize for trick-or-treaters! Yummy and good for you, too! Happy Halloween, dear readers!!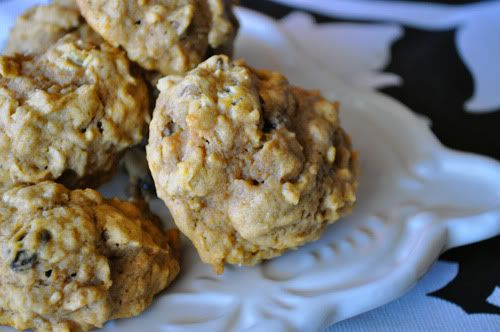 Pumpkin-Oatmeal Raisin Cookies
Ingredients
1 c all-purpose flour
3/4 c old-fashioned oats
1/2 tsp baking soda
1 tsp ground cinnamon
1/4 tsp Kosher salt
1/2 c unsalted butter, room temperature
1/4 c sugar
1/4 c brown sugar
1/2 c pumpkin purée
1 lg egg
1/2 tsp pure vanilla extract
1/4 c chopped pecans
1/4 c raisins
Instructions
Preheat the oven to 350 degrees F. Line two baking sheets with parchment paper and set aside.
Whisk together flour, oats, baking soda, cinnamon and salt in a medium bowl. Beat butter and sugars together in a large bowl at medium speed until light and fluffy. Add pumpkin, egg and vanilla extract; mix well. Then add in flour mixture, mixing well. Stir in walnuts and raisins. Drop by rounded tablespoons onto prepared baking sheets.
Bake 14 to 16 minutes or until cookies are lightly browned and set in centers. Cool on baking sheets for a few minutes, then transfer to wire racks to cool completely.
http://mybakingheart.com/2010/10/31/pumpkin-oatmeal-raisin-cookies/