The Rangers' loss in Game 1 last night leaves me thinking that this is only shades of Tampa Bay. It started off so well, but I think the boys were just too nervous. Freaky dyed beards will do that to you. (Seriously, what is UP with the entire SF bullpen looking like Fidel Castro??) Since we're obviously rallying for a Texas win tonight, it's only fair to have another watching party, right? This is one of my favorite party dips – super-quick & easy and just perfect for nights like these! IT'S TIME!!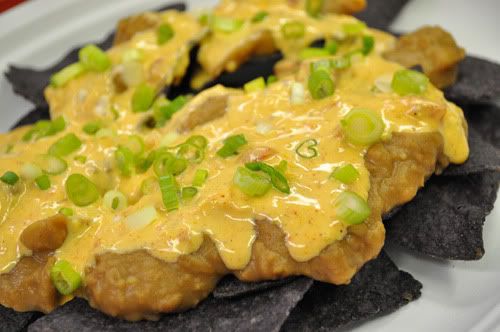 Ranger Nachos
Adapted from: AllRecipes.com
2 (10 oz.) cans RO*TEL
2 lbs. Velveeta, cubed
2 large skinless, boneless chicken breasts, cooked & shredded
2/3 cup sour cream
1/2 large white onion, diced
1 packet low-sodium taco seasoning mix
2 cans refried beans
Chopped green onions, for garnish
Blue corn tortilla chips
Place the cans of RO*TEL, cubed Velveeta, chicken meat, sour cream, diced white onions and taco seasoning into a slow cooker. Cook on High, stirring occasionally until the cheese has melted and the dip is hot, 1 to 2 hours. Heat refried beans for 15-20 minutes. Spread chips out on platter, then top with refried beans & cheese dip. Sprinkle green onions atop chips and serve.