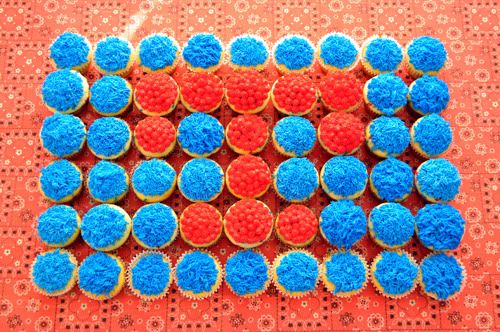 I've been a Texas Rangers fan since I was old enough to know what a baseball was… and I remember the exact moment that it happened.
Flashback to 1988. I'm in 2nd grade and it's 'Prize Day'. I'm kneeling over one of those rattan laundry baskets, sifting through plastic beaded necklaces, stickers, toy compasses, army men with their parachutes and the occasional roll of Smarties. I continue to dig, to find that one awesome toy that I just can't live without. And then I see it. A baseball card. I'm foggy on the details of the card – the player, team or stats. However, I'm pretty sure it was a Topps. From then on, I knew I was in for it. If it had a baseball on it or was in any way associated with the MLB, I had to have it… whatever it was. I moved out of my parent's house five years ago, but my childhood closet is still filled (to the brim) with Ranger yearbooks, hundreds upon hundreds of baseball cards, t-shirts, plaques, signed baseballs, jerseys, felt pennants, photographs, collectible glasses, commemorative newspapers, jackets, bats, buttons, ticket stubs, etc. I could definitely go on all day about my collection, but I think the coolest piece has to be Nolan Ryan's rookie card (a lovely little Christmas present from dear ol' Dad).
I first met Nolan Ryan when I was in the 8th grade. Momma G took me out of school for an "appointment" right after lunch one Spring day. What the school office was unaware of at the time, was that my said "appointment" actually turned out to be a visit from Mr. Ryan at our county airport, where he was campaigning for a Texas State Senator candidate in 1994. News cameras filled the room and began to take hundreds of photos and live shots for the evening newscast. Keep in mind that I'm the only kid there and it's a small town. So, if you haven't already figured it out, my math teacher saw me on the news that night and knew that I wasn't at an "appointment". I wish I could say that I was served with detention or an extra assignment, but she just laughed and told me that what I had done was pretty cool. I even spoke with Nolan during a radio broadcast where he was discussing the end of his long career and as my heart was pounding, all I could manage to say was, "Why do you want to retire?" Kids say the darndest things, right? What can I say? I'm a total geek when when it comes to meeting my heroes!
Winter Carnival weekends? I was there. When Robin Ventura stupidly decided to charge the mound and attack Nolan (not very successfully, mind you)? I was there. The last home stand in Arlington Stadium against the Oakland A's & the Kansas City Royals in September & October of '93? I was there. And when the Rangers retired Nolan's #34 at a September '96 game? Yep, you guessed right, I was there.
Whenever I was asked the age-old question, "What do you want to be when you grow up?", I would always answer with, "A trainer for the Texas Rangers!" And I had it all planned out. I would live in an apartment a block away from the stadium and go to school at the University of Texas at Arlington. Perfect, right? My plans didn't exactly pan out that way, but they were close. During my senior year at TCU, I interviewed for an internship with the Advertising Department of the Texas Rangers Baseball Club. And, I got it. To this day, it's one of the greatest times I've ever had on a job… and I've had several really neat jobs (i.e. Disney World!).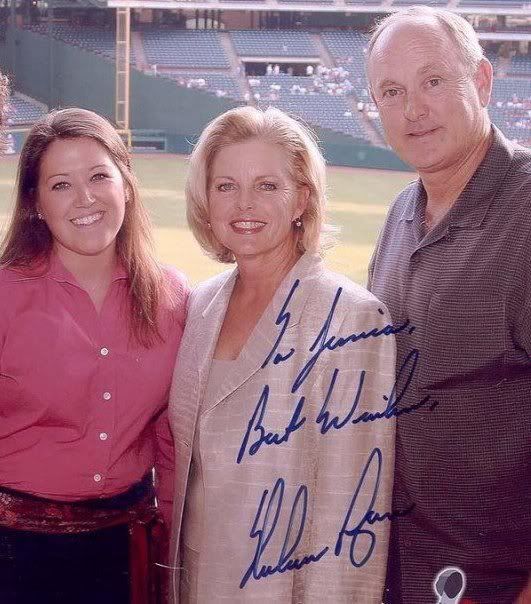 Since the boys are playing such a historic game tonight (their very FIRST World Series!!), I decided that our watching party needed something special. And what's more special than Ranger cupcakes? How about 54 Ranger cupcakes! These are such a fabulous little treat, not only because the cupcakes make up the team logo, but because they're DELICIOUS! Yes, they're for tonight, but I had to sneak one! They're specifically named in honor of the Rangers' mascot, Captain, too… one of the biggest cheerleaders the team has!
Texas Rangers 'Captain' Cupcakes
Adapted from: Martha Stewart's Yellow Buttermilk Cupcakes
Yields: 36 cupcakes
3 c cake flour
1-1/2 c all-purpose flour
3/4 tsp baking soda
2-1/4 tsp baking powder
1-1/2 tsp coarse salt
1 c + 2 tbsp (2-1/2 sticks) unsalted butter, room temperature
2-1/4 c sugar
5 large whole eggs + 3 egg yolks, room temperature
2 c buttermilk, room temperature
2 tsp pure vanilla extract
1 c red, white & blue long sprinkles
Preheat oven to 350 degrees F. Line standard muffin tins with paper liners. Sift together both flours, baking soda, baking powder and salt. With an electric mixer on medium-high, cream butter and sugar until light and fluffy. Reduce speed to medium. Add whole eggs, one at a time, beating until each is incorporated, scraping down the sides of bowl as needed. Add yolks and beat until thoroughly combined. Reduce speed to low. Add flour mixture in three batches, alternating with two additions of buttermilk, and beating until combined after each. Beat in vanilla. Add the sprinkles and carefully fold them into the batter.
Divide batter evenly among lined cups, filling each three-quarters full. Bake for about 20 minutes, rotating tins halfway through, until cupcakes spring back when lightly touched and a cake tester inserted in centers comes out clean. Transfer tins to wire racks to cool for 10 minutes, then turn out cupcakes onto racks and let cool completely. Cupcakes can be stored overnight at room temperature, or frozen up to 2 months, in airtight containers.
To finish, pipe cupcakes with buttercream icing (recipe follows). Refrigerate up to 3 days in airtight containers. Bring to room temperature before serving.
Snow White Buttercream Icing
Source: Wilton
Yields: 7 cups
2/3 c water
4 tbsp meringue powder
12 c confectioners' sugar, sifted
1-1/4 c solid vegetable shortening
3/4 tsp salt
3/4 tsp clear vanilla extract
3/4 tsp clear almond extract
2 tsp red icing color
2 tsp blue icing color
Combine water and meringue powder. Whip at high speed until peaks form. Add 4 cups of sugar, one cup at a time, beating at low speed after each addition. Alternately add shortening and remaining sugar. Add salt, flavorings and beat at low speed until smooth. If using colors, divide icing in half and add dyes to each, again beating at low speed until smooth. You can either use one mixer and wash the bowl in between each color, or use a stand mixer on one and a hand mixer on the other. Icing may be stored for up to two weeks in an airtight container in refrigerator.
When Feliz caught A-Rod looking on that final strike to win the American League Championship, I immediately called Momma G to remind her that my closet full of junk was now worth a little bit more. 😀 Oh, and that 8th grade photo? Horrid.