Welcome to a Virtual Birthday Party for Dorie Greenspan! Several faithful TWD and FFwD members have 'gathered' together today to celebrate Ms. D's birthday in style! Our thoughtful hosts, Laurie and Holly, have posted a round-up for all the world to see, so hop on over to pheMOMenon and sample each fun dish that we've cooked up from Dorie's newest book, Around My French Table. Below is a little appetizer to get you started… the Tomato-Cheese Tartlet. Incredibly quick and easy (and delicious). A little prep work is all you need! Happy Birthday, Dorie!!
Tomato-Cheese Tartlets (pgs. 164-165)
Source: Around My French Table by Dorie Greenspan
1 sheet frozen puff pastry (about 8 oz.), thawed
About 1/3 c tapenade, homemade or store-bought; or pesto, homemade or store-bought
4-5 ripe tomatoes, sliced into rounds
1 (8 oz.) ball mozzarella or about 1/2 lb. fresh goat cheese (preferably in a log, because it's the easiest to slice)
Salt & freshly-ground pepper
Olive oil, for drizzling
Fresh basil leaves, for garnish
Balsamic vinegar, for drizzling (optional)
Center a rack in the oven and preheat to 400 degrees F. Working on a floured surface, roll the puff pastry our into a square that's about 13″ on a side. Using a plate or saucer with a diameter of about 6 inches as a guide, and the point of a paring knife, score and then cut out 4 rounds of dough. Line a baking sheet with parchment, lay the rounds on it and prick them well all over with a fork. Put a second sheet of parchment over the rounds and top with another baking sheet to weight the dough down.
Bake the rounds for 15 minutes. Carefully remove the top baking sheet and the parchment – it can be tricky, so protect your hands. If the rounds are well browned and crisp, they are done; if they look a little pale and not thoroughly baked, return them to the oven, uncovered, to finish baking. Put the baking sheet on a cooling rack and allow the crusts to cool until they're just warm or at room temperature. (You can bake the rounds up to 8 hours ahead and keep them uncovered at room temperature.)
To finish the tartlets: Spoon a thin layer of tapenade or pesto over each pastry round, leaving a border of about 1/2 to 1 inch bare. Next, arrange alternating slices of tomato and cheese in a pinwheel pattern, and put a slice of tomato and/or cheese in the center to fill the hole. Now you can season the tartlets with salt and pepper, drizzle them with oil, finish with a basil leaf and a little balsamic, if you like, and serve them. Or you can hold off on the final topping and warm the tartlets first.
To warm the tartlets: After adding the slices of tomato and cheese, put the tartlets on a baking sheet and run them under the broiler (keeping them about 5 inches from the heat) until the cheese just barely starts to melt, about 3 minutes; or warm them in a 425-degree-oven for about 5 minutes. Season them with salt and pepper, drizzle them with olive oil and top with fresh basil, and, if you like, a drizzle of balsamic.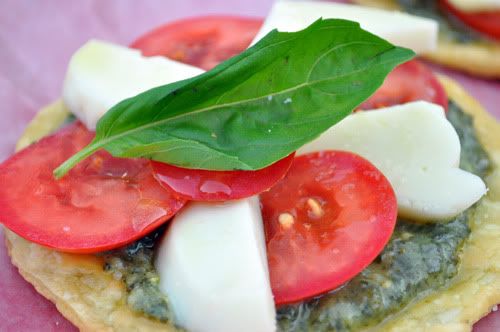 p.s. I'm hanging out with Dorie TODAY at Central Market, watching her demo a few recipes from the new book and maybe celebrating the b-day with a piece of cake! I'm so excited I can hardly stand it, so be on the lookout for a recap post in the next few days! 😀