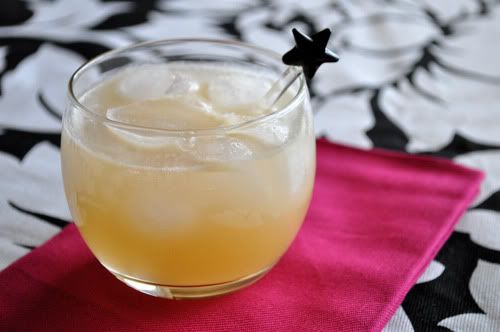 Having a rough week? I certainly am… and it's only Wednesday. If there's anything to stress out about in the world, no matter how big or small, I'm always the one that stresses about it. This week is filled with little sister's wedding plans, deadlines (both work and the blog), anxious cheering for the Rangers, overnight house guests, TCU Homecoming (I can't believe it's been 5 years since I graduated) and Dorie Greenspan's class on Sunday (yes, THE Dorie Greenspan).
So when I came across Kitchen Play's Progressive Party contest, it featured the Nectarine Bourbon Cocktail as it's second course… and I knew it'd be perfect to imbibe in after work one evening. For my entry, I changed it up a tiny bit and ended up with one h-e-double-hockey-sticks of a drink. It was incredible… and one I'll definitely be making for future dinner parties. Christmas, anyone??
Pear-licious Bourbon Cocktail
Adapted from: The Duo Dishes
Yields: 4 drinks
1 tbsp unsalted butter
1 tbsp brown sugar
Juice of 1 lemon
2 pears, peeled, pitted and chopped
1/4 c bourbon
1/8 tsp peppermint extract
Lemon-lime soda
Heat the butter and sugar in a small saucepan over medium heat until the sugar dissolves and the butter starts to bubble. Add the lemon juice and the pears, while turning the heat to low and cooking the fruit until very soft, approximately 8-10 minutes.
Stir in the bourbon and peppermint extract. Remove the pan from the heat and set aside to cool slightly. Pour into a blender or food processor and blend until smooth and uniform. Cover and cool completely.
Fill four glasses with ice about 1/2 to 3/4 full, then top with about 1/4 cup of lemon-lime soda. Evenly add the pear-bourbon mix to almost fill the glass – stir well and enjoy!