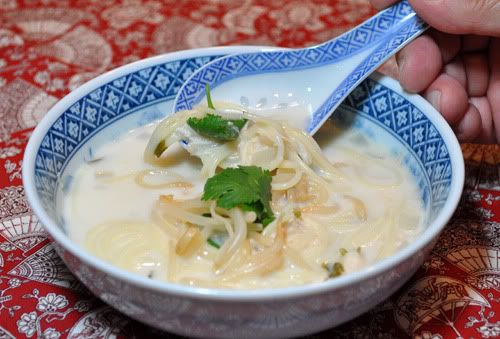 Week Three of 'French Fridays with Dorie' and Ms. Greenspan chooses her Spicy Vietnamese Chicken Noodle Soup. What looks like a very involved recipe, isn't. It's just a long list of super-intense flavors and ingredients. I didn't think I'd have the time this week, but I really read over it (instead of quickly skimming) and rearranged my schedule to take the 30-45 minutes to whip this up. A few quick chops of this, a dash of that, pour the broth & milk in, add the chicken & noodles and cook!
It was flavorful, rich and smooth with that fiery kick at the end (barring the fish paste – do you know how hard it is to find that stuff??). Just perfect for a Fall weeknight dinner. I'm so glad I changed my mind. 🙂
#3 – Spicy Vietnamese Chicken Noodle Soup (pgs. 98-100)
Source: Around My French Table by Dorie Greenspan
Still don't have a copy of Around My French Table?? Get it now… 34% off at Amazon!