I just love sweet little stories. You know the ones… those that lead you to bust out in a grin and make your heart melt. This one started via twitter, then moved on to etsy, which eventually led to Facebook. That's when I became friends with a designer out of Florida and received a gorgeous new clutch to carry to the TCU games.
Beautiful, isn't it? I'm absolutely in love with it and for that, I have McKay Pittman, of Oatmeal Lace Design, to thank. Those cookies in the title? Her grandmother, Mamama's… which inspired the name of her design business. Now how sweet is that?
These cookies are incredibly dreamy. Yes, they're filled with butter and sugar (and shortening!), but that's just what makes them so yummy. I'm honored to have this recipe in my file and I know that every time I make them, I'll think of these two wonderful ladies. Thank you, McKay, for the amazing clutch, this lovely recipe and most of all, your new friendship!
What follows is Mamama's exact recipe, word for word. McKay suggested that I check the cookies at 8 minutes, which was definitely appreciated. So, depending on your oven, bake the cookies anywhere from 7-10 minutes. As for the 'small spoonfuls', I used a tablespoon and it worked perfectly.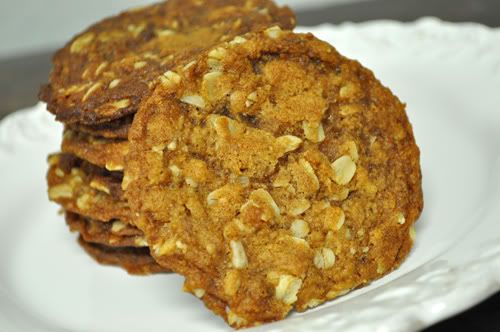 Oatmeal Lace Cookies
Source: Mamama, grandmother to McKay of Oatmeal Lace Design
1/2 c butter
1/2 c shortening
2 c rolled oats
1 c flour
2 tsp cinnamon
1 tsp salt
1 tsp baking soda
2 c light brown sugar
2 eggs
Preheat oven to 350 degrees F. Melt butter and shortening. Add oats and toast really crisp. In another bowl, put flour, cinnamon, salt, baking soda and brown sugar. Mix well. Let oatmeal cool for 1 minute. Add eggs to dry ingredients. Add oatmeal and mix well. Place small spoonfuls on ungreased cookie sheets. Bake 10 minutes or until done.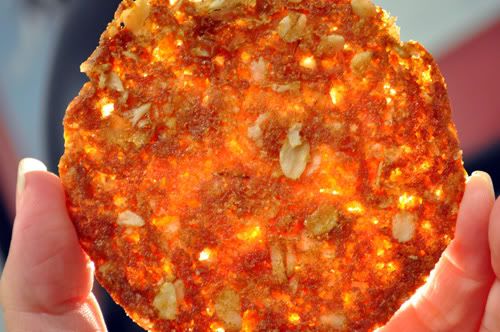 So thin, you can see through 'em… like lace! 😉