My Baking Heart… a spin on what would become my new-found passion of creating yummy treats and the reason I began this blog back in January of 2008, a broken heart. The inspirations? My mom, G, and my grandmother, Mango. I wasn't a hands-on sous chef when I was younger, but I spent quite a bit of time just watching them in their element. Chopping veggies or measuring flour, it didn't matter. So when I forced myself to get off the couch and dry those (many) tears, the kitchen is where I headed first.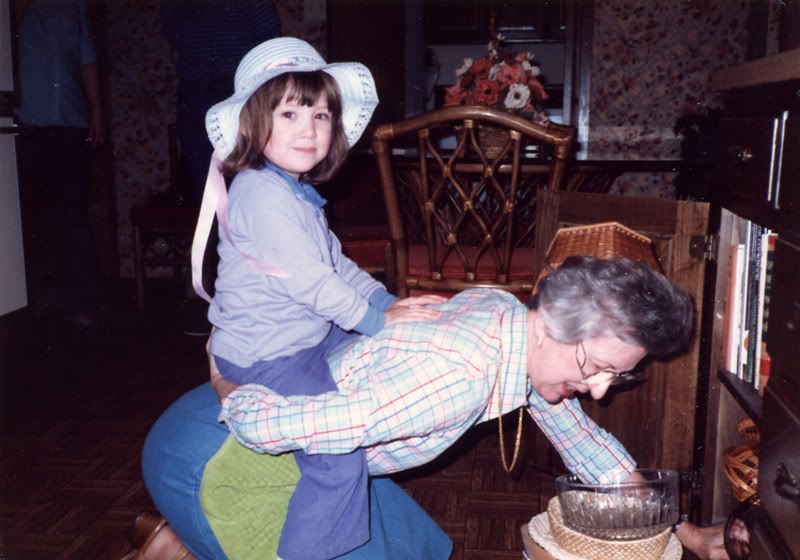 Mango & Me – 1984
That kitchen pictured above? It's the one I bake in now. And I keep that image framed & sitting on the windowsill to remind me of the wonderful times I've had with those two beautiful women. I'm nowhere near as amazing as they are, but hopefully, someday I will be. This blog and the recipes contained within are a labor of love – giving me a way to relieve stress, find my happy place, share the greatness that is food, and to discuss all of the above with the thousands of new friends I've made in the past 2-1/2 years.
Same kitchen, 26 years later – Me in a fab IceMilk Apron 🙂
Even though the dining table is different and I've added my own touches here and there (like that gorgeous Le Creuset Dutch Oven that C gave me for our 1-year anniversary last weekend!), it still feels like those ladies are in the kitchen with me every time I bake. I continue to be amazed at the things I've accomplished, the opportunities I've been presented with and the many sweet friends I've made in this short amount of time. Blogging my baking adventures is more than just a hobby now… it's second nature.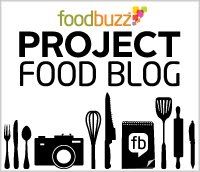 Project Food Blog is the first-ever interactive competition where thousands of Foodbuzz Featured Publishers are competing in a series of culinary blogging challenges for the chance to advance and a shot at the ultimate prize: $10,000 and a special feature on Foodbuzz.com for one year. Voting for entries on the first challenge will kick off September 20th, and contestants will be whittled down over the next 12 weeks via exciting challenges related to food blogging.
Want to help me move on to Challenge #2? Don't forget to vote on September 20th!! 😀