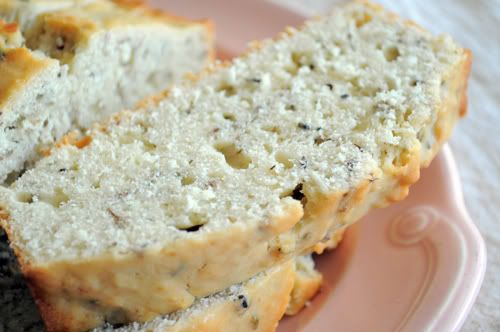 Momma G received this little loaf. She's a big fan of bread (my kind of gal!) and loves lavender – the smell, the color, etc. – so I just knew she'd love this, too. It's super easy to put together and takes little time in the oven. It's also best eaten the day it's baked or the next… this one dried out quickly! However, it made the house smell lovely! Just one more reminder that Summer is coming to a close! 🙂
Lemon-Lavender Bread
3/4 c milk
3 tbsp finely chopped culinary lavender
6 tbsp unsalted butter, room temperature
1/2 c Splenda for Baking
1/4 tsp Kosher salt
2 eggs
2 c all-purpose flour
1-1/2 tsp baking powder
2 tsp fresh lemon juice
Preheat the oven to 325 degrees F. Grease and flour a 9×5 inch loaf pan. Combine the milk and lavender in a small saucepan over medium heat. Heat to a simmer, then remove from heat, and allow to cool slightly.
In a medium bowl, cream together the butter and sugar until smooth. Beat in the eggs until the mixture is light and fluffy, then add the lemon juice. Whisk the flour, baking powder, and salt together; then stir into the creamed mixture alternately with the milk and lavender until just blended. Pour into the prepared pan.
Bake for 50 minutes in the preheated oven, or until a wooden pick inserted into the crown of the loaf comes out clean. Cool in the pan on a wire rack.