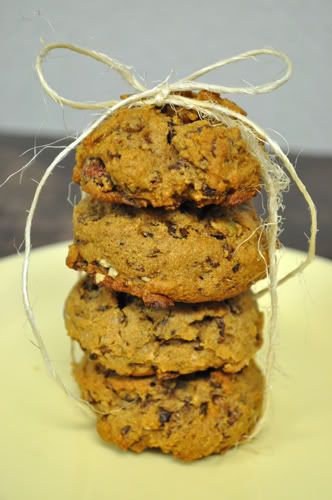 Remember that Chocolate Chip Almond Granola from Sunday?? Sure ya do. Can you believe that I managed not to eat the entire batch? I'm so proud of myself. 🙂 I had an entire carton left over with just enough to make these little goodies. However, I'm not sure what I was more excited about – the cookies or the chance to try my New Zealand Kamahi honey. The cookies were yummy, yes, but the honey? Amazing.
Kamahi honey is a "bold honey with a smooth vanilla flavour and a complex herbal finish." It comes from New Zealand's North & South Islands and is best in savory dishes, but will work when you need a distinct honey flavor in baked goods. It's definitely one I'll be using very often in the near future!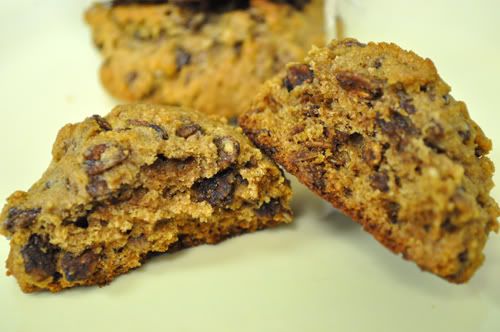 Honey Pumpkin Granola Cookies
Adapted from: The Sweet Melissa Baking Book by Melissa Murphy
6 tbsp unsalted butter, melted
1/2 c Kamahi honey
1/4 c Pumpkin Butter
1 large egg
1-3/4 c whole wheat flour
1/2 tsp kosher salt
3/4 tsp ground cinnamon, heaping
1-1/4 tsp baking soda
1-1/2 c Chocolate Chip Almond Granola
Position a rack in the center of your oven. Preheat the oven to 350 degrees F. Line two cookie sheets with parchment paper or aluminum foil. In a large bowl, whisk together the butter, honey, and pumpkin butter until smooth. Add the egg and whisk until incorporated. In a separate bowl, whisk together the flour, salt, cinnamon, and baking soda.
Add the flour mixture to the honey mixture all at once and stir until combined. Then stir in the granola. Drop the batter 2 inches apart by rounded tablespoonfuls onto the prepared cookie sheets (12 on each sheet). Bake for 12-13 minutes, or until golden around the edges. Do not over bake.
The cookies should be nice and chewy when cool. Remove to a rack to cool on the sheets for 10 minutes before transferring to the rack. These cookies will keep layered between wax paper in an airtight container at room temperature for 4 days, or frozen for up to 3 weeks.