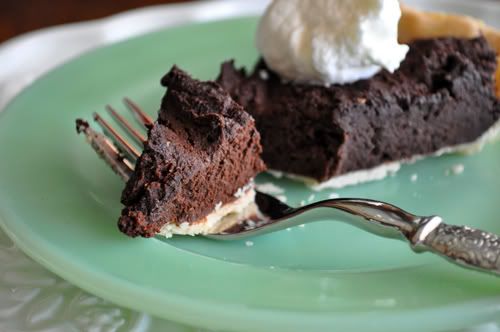 What do you say when someone asks you to describe yourself? It's hard isn't it? You'll take all kinds of suggestions from others, but when you have to toot your own horn… it's overwhelming. At least for me, it is. So, when Branny decided that this month's YWPWT? theme would be about our beautiful personalities, I was stumped.
My first thought was that I'm sweet. Well, geez, that could be any pie in the world, right (obviously excluding those savory ones)? I also think I'm nice, honest and a good friend. Great! How do you make a pie fitting those attributes?? You can't. I thought about it for almost a month. I did, however, find something that fit the bill of 'quick & easy' (which is always a good thing). I figured if I couldn't make something that screamed 'nice', it could scream 'chocolate'. 🙂
Chocolate Overload Pie
Adapted from: CakeSpy
1 pre-baked Pie Shell
1 pkg (5.9 oz) instant fat-free, sugar-free chocolate pudding
2 c melted Dorie's Dark Chocolate Ganache Ice Cream
Whipped cream (for topping)
Beat pudding mix and ice cream with a whisk until fully combined (about 2 minutes). Spoon mixture into pie shell and with an offset spatula, smooth the top so that the mixture is evenly distributed. Refrigerate for 2-3 hours or until set. If desired, top with a dollop of whipped cream before serving.
There ya go… quick & easy. 😉