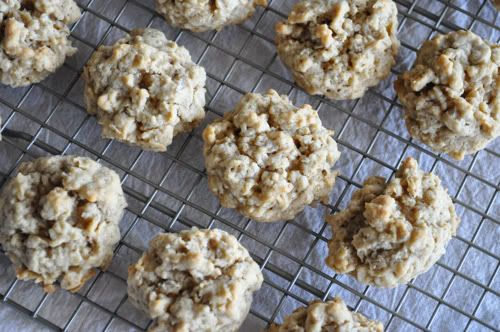 I've had quite a hard time staying away from these… and not just because they're sitting on my beautiful new cake stand (TJ Maxx for the win!). I justify it by size and ingredients. Four of these cookies equal two regular sized cookies and they're chock full of oatmeal. You know, good for your heart and all.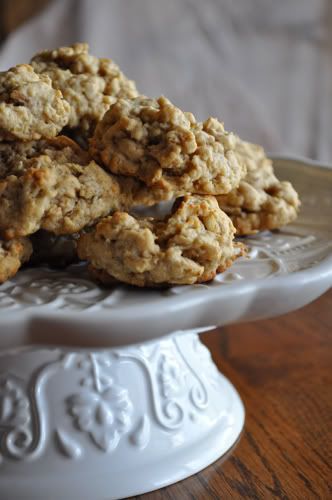 Ingredients
1 c all-purpose flour
1 c old-fashioned rolled oates
1/2 tsp baking soda
1/2 heaping tsp pumpkin pie spice
1/4 tsp salt
1/2 c unsalted butter, room temperature
1/4 c + 2 tbsp packed light-brown sugar, packed
1 large egg
1/2 tsp pure vanilla extract
Instructions
Heat the oven to 350 degrees F. Whisk together the flour, rolled oats, baking soda, pumpkin pie spice and salt in a medium-size bowl. Cream the butter and brown sugar in a large bowl with an electric mixer on medium speed. Beat in the egg and vanilla. Gradually add the flour mixture to the butter mixture, beating on low speed just until combined.
Drop the batter by heaping tablespoonfuls onto a baking sheet, spaced about 2 inches apart. Bake the cookies just until lightly browned on the bottom and the tops are set - about 8 to 10 minutes. Don't overbake, or they won't be soft. Let the cookies sit on the baking sheet for 5 minutes, then transfer them to a wire rack to cool. Store in an airtight container.
http://mybakingheart.com/2010/08/12/oatmeal-spice-cookies/