I don't know about you, but I'm ready for Fall. It was 98 degrees at 9:30p last night with not a breeze in sight. And it continues to get hotter. My makeup's not the only thing that's suffering, either… so are my workouts. You try running in 110 degree heat – it's no bueno.
Autumn is beautiful and my favorite of all four seasons. It's cool, breezy, refreshing and filled with Horned Frog football. I get to pull out the scarves and jackets, my jeans and Burberry boots. It's also means I get to eat some amazing desserts. And since I'm craving my all-time favorite scents, sights and tastes right now, these Pecan Pie Cookies fit the bill… at least until that lovely day when the Pumpkin Spice Latte is available once again. I pink-puffy-heart that day. 🙂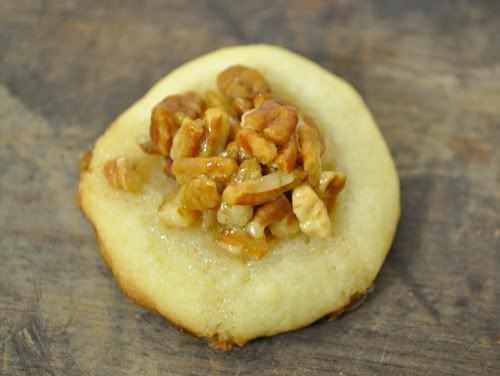 Pecan Pie Cookies
Adapted from: Southern Living's Classic Southern Desserts
1/4 c unsalted butter, room temperature
2 tbsp Splenda for Baking
1/4 c dark corn syrup
1 large egg, separated
1-1/4 c all-purpose flour
3 tbsp unsalted butter
1/4 c confectioners' sugar
1 tbsp dark corn syrup
3/4 c finely chopped pecans
Beat the 1/4 cup of room temperature butter and Splenda at medium speed with an electric mixer until light and fluffy. Add the 1/4 cup of dark corn syrup and egg yolk, beating well. Gradually stir in the flour; cover and chill for 1 hour.
Melt the 3 tablespoons of butter in a heavy saucepan over medium heat; stir in confectioners' sugar and the 1 tablespoon of dark corn syrup. Cook, stirring often, until mixture boils. Remove from heat and stir in pecans; chill for 30 minutes. Shape mixture by 1/2 teaspoonfuls into 1/4″ balls; set aside.
Preheat oven to 375 degrees F. Shape cookie dough into 1″ balls; place 2 inches apart on lightly greased baking sheets. Beat egg white until foamy, then brush on dough balls.
Bake for 6 minutes. Remove from oven and place pecan balls in center of each cookie. Bake 8 to 10 minutes more or until lightly browned. Let cool for 5 minutes on bake sheet, then remove cookies to wire racks and cool completely. If desired, these cookies can be frozen for up to 1 month.