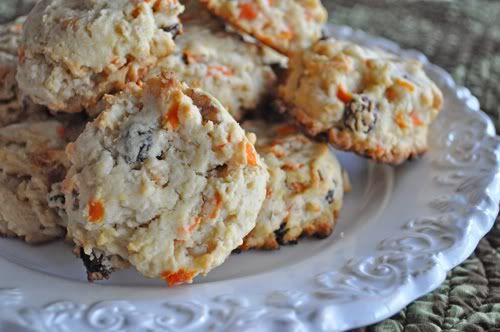 You know the feeling. The one you get when you're first trying something, taking that one and only first-impression bite. You dig in, waiting for something fantastic… and you get… something totally unexpected.
This was me on Sunday afternoon. For some reason, I was wanting those warm, rich, spicy notes of a carrot cake. But after I took a bite of these cookies, I didn't get that. The taste wasn't bad, but it wasn't amazing, either. I omitted the coconut, but filled them with double the raisins and walnuts (I'm out of pecans at the moment!) that Dorie called for… hoping that Momma G would take care of the whole plate for me! She wasn't in love with the raisins, so I don't think she'll be taking these home. Maybe I can pawn them off to the order department at work instead. 🙂
Many thanks to Natalia of gatti fili e farina – find the recipe on her blog and check out the other TWD'ers here!
Gingered Carrot Cookies (pg. 162)
Source: Baking – From My Home to Yours by Dorie Greenspan