Ever worn a heart monitor? No? Well, it's definitely not the most fun I've ever had. I watched my sister go through this for over 15 years – echocardiographs, EKGs, monitors, medicines, etc. – so I knew what an inconvenience it would be. Mine came off yesterday, but in the 48 hours I had it on, I couldn't take a shower or bath, my skin was allergic to the tape and there wasn't even ONE comfortable sleeping position I could find. Believe me, I tried. And that sticky residue from the electrodes?? It's still hanging around.
They didn't find anything life-threatening; just a few things to keep watching in the next few months. So, to reward myself for being super-good lately – salads, low-fat everything, soy, veggies and laying off the caffeine – I made these (yes, I only had one!). They've been in my recipe file for a few weeks now and I knew that it was the perfect time to try them out. I mean, glazed doughnuts in muffin form?? Yes, please.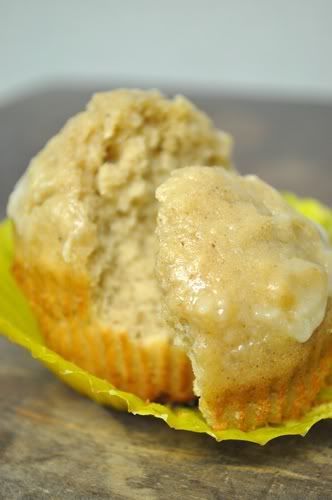 Glazed Doughnut Muffins
Adapted from: My Baking Addiction & King Arthur Flour
Muffins:
1/4 c unsalted butter, room temperature
1/4 c vegetable oil
1/4 c Splenda for Baking
1/3 c light brown sugar
2 large eggs
1-1/2 tsp baking powder
1/4 tsp baking soda
1 tsp ground nutmeg
1 tsp ground cinnamon
3/4 tsp Kosher salt
1 tsp pure vanilla extract
2-2/3 c all-purpose flour
1 c skim milk
Glaze:
2 tbsp unsalted butter, melted
3/4 c confectioners' sugar
3/4 tsp vanilla
2 tbsp hot water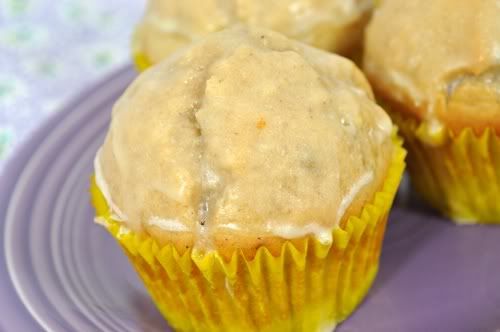 Preheat the oven to 425 degrees F. Line a standard muffin tin with 12 paper muffin cups. In a medium-sized mixing bowl, cream together the butter, vegetable oil and sugars until smooth. Add the eggs, beating to combine. Stir in the baking powder, baking soda, nutmeg, cinnamon, salt and vanilla. Stir the flour into the butter mixture alternately with the milk, beginning and ending with the flour and making sure everything is thoroughly combined. Spoon the batter evenly into the prepared cups, filling them nearly full. Bake the muffins for 15 to 17 minutes, or until they're a pale golden brown and a toothpick inserted into the center of one of the muffins comes out clean.
In a medium bowl, prepare the glaze by mixing together the melted butter, confectioners' sugar, vanilla and water. Whisk until smooth. When muffins have cooled slightly, dip the muffin crowns into the glaze and allow the glaze to harden. At this point, you can leave them as is or dip a second time. Serve warm, or cool on a rack and wrap airtight. Muffins will keep at room temperature for about a day.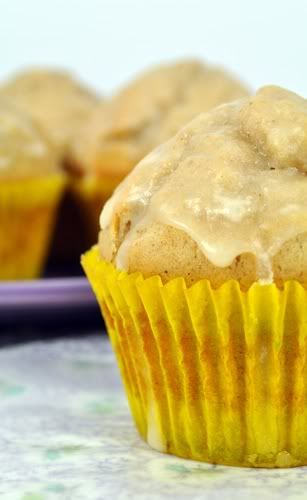 Just look at that crown!! 🙂