I've always loved the sound of 'Monkey Bread'. It evokes something fun, something child-like. And I've never made it… until now. You see the boxed kits in the store, but it's so much easier than that! Especially when you already have everything on hand. Mine didn't turn out as I'd expected, but hey, recipes rarely do (for me anyway). This one was warm, sweet and reminded me of Fall. Summer has definitely arrived in Texas (it's forecasted to be 102 degrees this Friday), but I'm already yearning for a Pumpkin-Spice Latte… 😉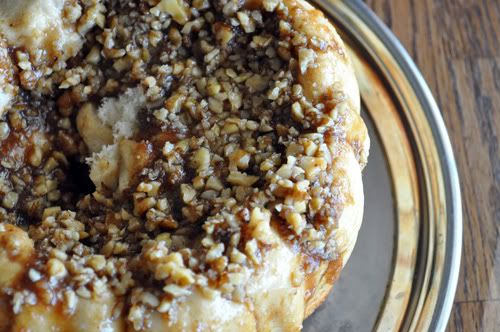 Cinnamon-Walnut Monkey Bread
1/2 (3 lb) package frozen roll dough, thawed
1/2 c chopped walnuts
2 tbsp butter
1/2 c light brown sugar
1/4 tsp ground cinnamon
2/3 c light brown sugar
1/2 tsp ground cinnamon
3 tbsp butter, melted
Spray a 12-cup Bundt pan with cooking spray. Sprinkle walnuts in bottom of pan; set aside. Combine 2 tablespoons butter, 1/2 cup light brown sugar and 1/4 teaspoon cinnamon in a small saucepan; cook over low heat, stirring constantly until blended, then pour mixture over walnuts. Set aside.
Combine 1/2 cup light brown sugar and 1/2 teaspoon cinnamon in a small bowl; set aside. Cut each roll in half; dip tops of balls into melted butter and then into brown sugar mixture. Place in prepared pan. (At this point, Monkey Bread may be covered and stored in the refrigerator 8 hours or overnight or proceed as directed.) Cover and let rise in a warm place, free from drafts, 50 minutes or until doubled in bulk.
Preheat oven to 350 degrees F about 10 minutes prior to baking. Bake 25 to 30 minutes or until bread sounds hollow when tapped. Remove from pan and cool on a wire rack. Serve warm.