Happy Cinco de Mayo, y'all! This month's 'You Want Pies With That?' theme is Pizza Pies, chosen by the lovely Erin of Milk & Honey. And what better way to celebrate Cinco de Mayo than with a Mexican Pizza?! A couple of slices of this paired with a Coconut Margarita and you're good to go!
'Cinco de Mayo' Mexican Pizza
Adapted from: Gourmet Magazine (dough) & TLC
Dough
2 to 2-1/4 c all-purpose flour
1/4 ounce package fast-acting yeast
1/2 tsp sugar
2 tbsp olive oil
1/2 tsp salt
In a large bowl whisk together 3/4 cup of flour, yeast, sugar, and 2/3 cup hot water (130 dgrees F). Stir in the oil, 1-1/4 cups of the remaining flour, and the salt and blend the mixture until it forms a dough. Knead the dough on a floured surface, incorporating as much of the remaining 1/4 cup flour as necessary to prevent the dough from sticking, for 5 to 10 minutes, or until it is smooth and elastic.
Alternatively, the dough may be made in a food processor. In a food processor combine 3/4 cup of the flour, yeast, and sugar. With the motor running, add 2/3 cup hot water, and turn the motor off. Add the oil, 1-1/4 cups of the remaining flour, and the salt and process the mixture until it forms a ball, adding more water, 1 teaspoon at a time, if it is too dry, or more flour, 1 tablespoon at time, if it is too wet. Knead the dough by processing it for 15 seconds.
The dough, prepared by either method, may be used immediately, but for better flavor it is best to let it rise once. Put the dough in an oiled bowl and turn it to coat it with the oil. Let the dough rise, covered with plastic wrap, in a warm place for 30 minutes, or until it is double in bulk, and punch it down. This dough may be used instead of the basic pizza dough.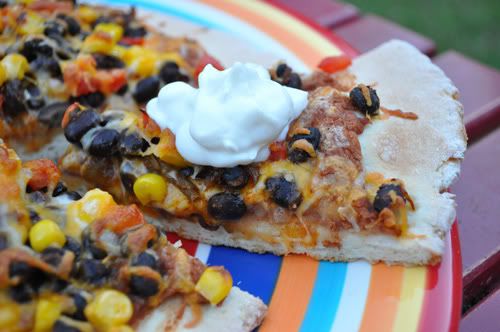 Pizza
Pizza Crust (recipe above)
Nonstick cooking spray
1/2 small white onion, diced
1 tsp chili powder
1/2 tsp ground cumin
1/4 tsp ground cinnamon
1 can reduced-sodium black beans, rinsed and drained
1/2 can diced green chilies
1 can fat-free refried beans
1 c shredded Mexican-blend cheese
3/4 c diced tomatoes
1/2 c frozen whole kernel corn, thawed
1/2 can sliced ripe black olives, drained
Salsa (optional)
Fat-free sour cream (optional)
Prepare pizza crust. Preheat oven to 500 degrees F.
Spray 2-3 quart saucepan with cooking spray. Place over medium heat. Add onion, chili powder, cumin, cinnamon and 1 tbsp water; stir. Cover and cook 3-4 minutes or until onion is crisp-tender. Stir in black beans and chilies.
Roll dough into a 14″ circle. Transfer dough to pizza pan or stone. Spread refried beans over crust, leaving about an inch around the sides. Top with half the cheese, black bean mixture, tomatoes, corn and olives. Top with remaining cheese. Bake for 10-15 minutes or until the crust is a deep golden brown. Let stand a few minutes before slicing. Serve with salsa and sour cream, if desired.