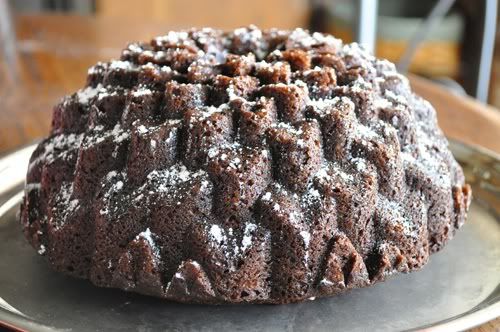 I dislike rainy, overcast days. They're dreary and I always become depressed, wishing all day long that I was napping on the couch under a blanket with a movie and a book. I especially dislike these days when they require a (2-hour round) trip to the airport to say goodbye to C, yet again. I didn't know when it would come, but in the back of my mind, I think I knew that someday this would happen. This long-distance thing… it's starting to wear on me.
I went throughout yesterday in a fog… work seemed much longer than normal, driving was slow and I came home to a sad, empty house. I was lucky with this past trip, though. He was here for a week and a half. This meant solid days and nights with him. Dinners, visits to grandparents and beers with friends at Limits. Card games with the guys, riding along on the back 9 at the golf course and watching him grab a 7-Iron out of his bag to set up for long drive.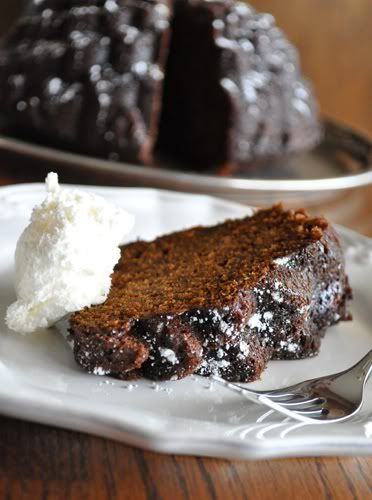 So as I sat alone on the couch, watching the brand new 40″ HD flat screen that we bought on Monday (which he lovingly set up for me while I was at work), I took a turn for the worse. I hate crying, because I know I'll see him soon, but I have a hard time going from 'all the time' to nothing, just like that. I always have… it's just how I am and I highly doubt I'll ever change. Fortunately though, I always feel better when I get in the kitchen to bake. So that's just what I did.
Cinnamon always lifts my spirits – the smell alone will make me smile. And after looking through several of my books, I came across this molasses cake that called for my favorite spice. It comes out of the oven evoking gingerbread and it's exactly what it tastes like, too. I loved the name (anything 'Southern' is fine by me) so I knew that this is what I'd bake. I wasn't 100% better, but it did cheer me up a little. Hopefully, C gets this job transfer to Austin and I won't have to miss him as much as I do now. It may be the 'Live Music Capital of the World', but it isn't home… however, it's a lot closer than San Diego. 🙂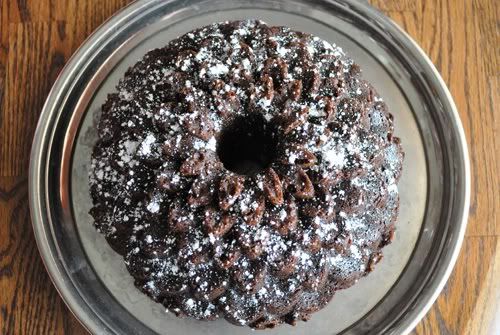 Ingredients
3 c all-purpose flour
1 c granulated sugar
2 tbsp ground ginger
2-1/2 tsp baking soda
2 tsp ground cinnamon
1/4 tsp Kosher salt
1 c light molasses
1 c canola or corn oil
2 lg eggs
1/4 c sour cream
2-1/2 tsp pure vanilla extract
1 c boiling water
Instructions
Position an oven rack on the middle rung. Heat the oven to 350 degrees F. Lightly grease and flour the bottom and sides of a 12-cup fluted Bundt or other fluted tube pan, tapping out the excess flour.
In a large bowl, combine the flour, sugar, ginger, baking soda, cinnamon and salt. Whisk until well blended. In a medium bowl, combine the molasses, oil, eggs, sour cream and vanilla. Whisk until well blended. Pour the wet ingredients over the dry ingredients and add the boiling water. Stir with a rubber spatula just until blended. Scrape the batter into the prepared pan and spread evenly. Bake until a toothpick or cake tester inserted in the center comes out with just a few crumbs attached, 43-50 minutes.
Transfer the pan to a rack and let cool for about 15 minutes. If necessary, run a thin knife around the pan to loosen the cake. Inver the cake onto the rack and lift off the pan so the fluted side is up. Set aside to cool completely. Using 2 long metal spatulas or your hands, transfer the cake to a flat serving plate. Slice the cake with a serrated knife and serve plain or with Sweetened Whip Cream and/or Caramel Sauce.
Source: The Weekend Baker by Abigail Johnson Dodge
http://mybakingheart.com/2010/04/22/southern-molasses-cake/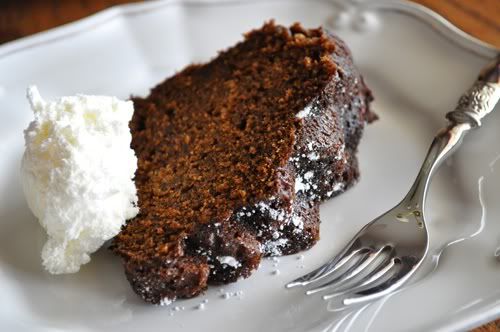 Don't forget about my 'Bon Appétit, Y'all' giveaway! It ends tonight, so if you haven't already commented (or tweeted or followed on facebook!), do so now before it's too late!