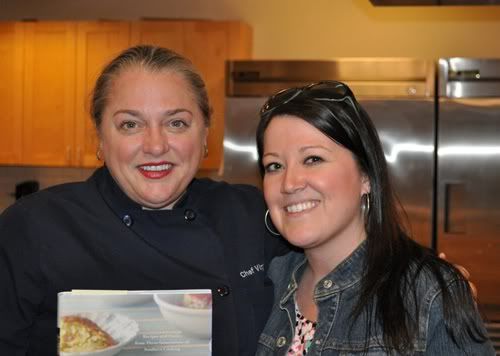 Last Friday evening, I had the exciting opportunity to sit through a class taught by the lovely Ms. Virginia Willis, chef extraordinaire. And afterwards? I got to meet her. Yep, that's us above. She's a doll – absolutely one of the sweetest people I've ever met.
The class was titled 'The Flavors of Fresh Herbs', which featured dishes from Ms. Willis' first book, Bon Appétit, Y'all! Three Generations of Southern Cooking. We had a Fresh Herb Salad, Soufflé aux Fines Herbs, Herb de Provence Crusted Fresh Ham and Bay Roasted New Potatoes. And those that know me, know that I don't normally like ham. But Virginia's ham? I ate it. On purpose. And I liked it. Seriously, I think this woman's a miracle worker.
And finally, our dessert… a Lemon Thyme Buttermilk Panna Cotta with Mint Blueberry Compote sprinkled with edible flowers. Mmmm, I'm drooling just thinking about it (definitely the best dish of the night). This recipe isn't in Bon Appétit, Y'all, but it will be in her next book! So make sure to look for it next year!!
Since I had such an amazing time and was so inspired by Ms. Willis, I'm giving one of you lucky ducks a copy of her book. To enter this giveaway, leave a comment describing your favorite Spring dish. Does it feature citrus, herbs, fresh fruit, edible flowers? Is it light in flavor or healthy for you? If you have the recipe, by all means, leave a link!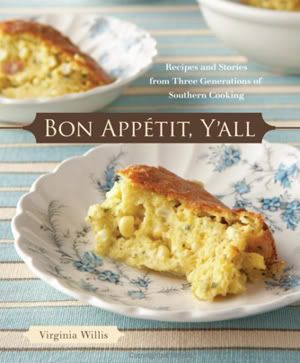 Bonus entries, you say?? Sure! Just leave a separate comment below for each of them to count.
Head over to twitter and follow my tweets
Tweet about this giveaway
Become a fan of 'My Baking Heart' on facebook
And/or subscribe to MBH updates (at the top right of the page)
That's a total of FIVE entries and you have one week to enter! I'll announce the winner Friday, April 23, so good luck to everyone… and Bon Appétit, Y'all!! 😉
Disclaimer: This giveaway is not sponsored or endorsed by Virginia Willis or the publishers of Bon Appétit, Y'all! Three Generations of Southern Cooking. Prize in question was purchased solely by the author of this blog, who receives no compensation for this review. Giveaway open to residents of the United States only.