It seems that apologies are in order, since for the last two weeks, all I've posted are TWD recipes. Don't get me wrong… I love my TWD time, but I've got so many other things that are just begging to be made (and posted!). However, C's here for about a week and I find that whenever he's in town, my baking tends to lag. We're always spending time with friends, having dinner with the parents or frequenting our favorite local haunt, City Limits. I guess that's okay, though, seeing as how he lives 1,300 miles away and I see him MAYBE once a month (if I'm lucky!).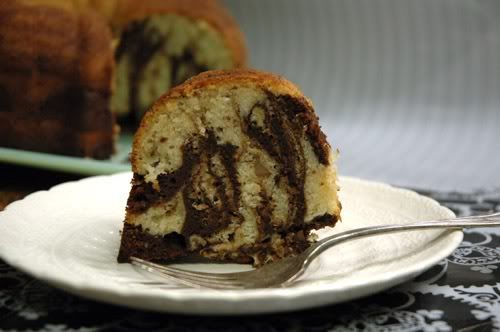 I did have an hour or two last night to make this week's choice, Dorie's Mocha-Walnut Marbled Bundt Cake. It was an excellent little dessert to follow the burgers that C grilled for us. And it would've been perfect (just like Ms. Greenspan suggests) with a scoop of ice cream, which unfortunately, I didn't have on hand. I think I hear a 'stop at the store on the way home' calling me… 😉
This week's recipe is actually Coconut-Tea Cake, but since it seems like such a perfect Easter dessert, some of us have switched up weeks. Erin of When in Doubt…Leave it at 350 should have the Bundt cake recipe on her site next Tuesday (if not today)!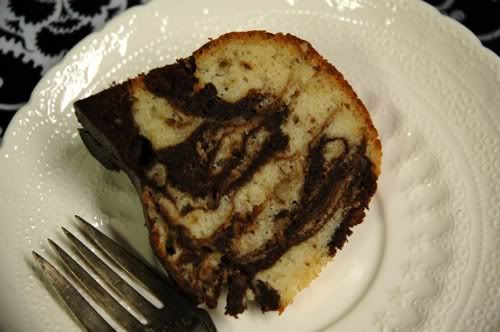 Mocha-Walnut Marbled Bundt Cake (pgs. 180-181)
Source: Baking – From My Home to Yours by Dorie Greenspan