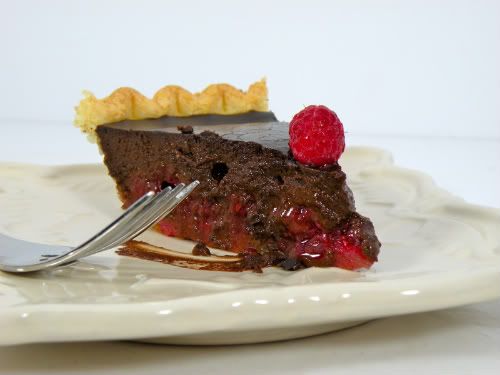 A few months ago, I was asked to takeover You Want Pies With That?. The original hostesses were becoming quite busy with other things and didn't have the time to devote to the site. So, my BFF Amy of Sing For Your Supper agreed to help me out, and we've slowly been working on plans. Our new banner and badge have been uploaded, so we're almost ready to start anew! Head on over to check it out, become a fan on our Facebook page and grab that new badge for your blog! 🙂 We're excited about what's in store and we hope you'll join us!!
Now, on to this week's TWD! I was hesitant to make this… but only because it's just me around here and I'm reeeeeeally trying hard to eat better. I take a lot of things to work, but most of the gals are on diets as well, so a lot of treats go uneaten. 🙁
With that said, this was SO good. Definitely one I'd make again, especially when I need a dessert for an event! It was rich, smooth, almost velvety with a beautiful chocolate finish… two thumbs up! And I only had a tiny slice. Yay, me!!
Thanks to Rachelle of Mommy? I'm Hungry! for this week's choice! Check her blog for the recipe and TWD for the other bakers' tarts!
Soft Chocolate & Raspberry Tart (pg. 354)
Source: Baking – From My Home to Yours by Dorie Greenspan