I missed Jessica's appearance on Rachael Ray, but I've seen her recipe on several sites. And since I needed something fairly quick for dinner last night, I decided to give it a try. The result: surprisingly good… and the gal's got a fab name, to boot. 😉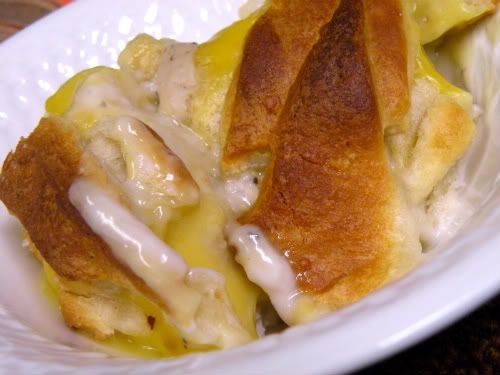 Jessica Simpson's 'Chicken and Dumplings'
3 rolls of reduced-fat croissant rolls, divided
1 small rotisserie chicken, skin discarded and meat removed from bones
1 can of low-sodium, reduced-fat cream of chicken soup
1 can of low-sodium, reduced-fat cream of mushroom soup
1 c low-sodium chicken broth
Salt and ground black pepper to taste
Preheat oven to 400ºF. Roll out two cans of croissant rolls and separate into diamond shaped sections. Place a small handful of rotisserie chicken on each diamond, fold dough over and press ends together to create dumplings. Roll out the third can and cut dough into strips.
Line a 9×13″ baking dish with one layer of dumplings. Pour the can of cream of chicken soup over the layer of dumplings, followed by the can of cream of mushroom soup, and chicken broth.
Place strips in a crisscross pattern on the top of the dumplings and soup mixture, season dish with salt and ground black pepper and bake until the dumplings are tender and cooked through and the top is bubbly and brown, about 30 minutes.