January 15, 2008, 10:57 pm: I hit the 'publish' button and things were off. I was in a bad relationship, highly depressed, completely bored with my day-to-day life and thinking that things were never going to look up. But after talking to a few foodies (now friends) on the Nest's 'What's Cooking' page, I decided to start a food blog. I could find my way around a kitchen, but was never really that enthused about spending several hours in there. Imagine my surprise, two years later, to find that it's all I can think about. Yes, I am a full-fledged 'food snob'… and I embrace it! I get excited about grocery stores, cupcake liners, spices, new cookbooks, dishes, tools and of course, recipes.
These past two years have made me a better person. I'm not only in a new (and perfectly wonderful) relationship, but I'm happy. I've done things I never thought I'd ever do and I have a handful of foodie friends that I absolutely love. And hopefully, year three will bring more crazy and exciting things for 'My Baking Heart'. Thank you for sticking around and continuing to read it!! 😀
Now… on to this month's Iron Cupcake: Earth entry! Since it is MBH's birthday, I decided to post earlier than normal. The theme for January is "Winter Warm-Up"… based on or inspired by anything that warms us up during the cold months. Spicy foods always warm me up, no matter what time of year it is, so I went with that and made these hot little tamales…
Chocolate Chile Cupcakes with Spicy Chocolate Ganache Frosting
Ingredients
For the Cupcakes:

4 oz unsweetened chocolate, roughly chopped
1/4 c dark cocoa powder
1-1/4 c water
3/4 c all-purpose flour
1/2 c cake flour
1 tsp baking soda
3 tbsp ancho chili powder
1/4 tsp ground cayenne pepper
1/4 tsp salt
16 tbsp unsalted butter
3/4 c Splenda for Baking
4 lg eggs
1/2 c sour cream
1 tsp pure vanilla extract

For the Frosting:

1-1/2 c heavy cream
4 tbsp unsalted butter
2 tbsp ancho chili powder
1/8 tsp ground cayenne pepper
12 oz semisweet chocolate, roughly chopped
Instructions
For the Cupcakes:
Preheat oven to 350 degrees F. Combine chopped chocolate and cocoa powder in a medium-sized bowl, then set aside. Boil water in a kettle, then measure out 1-1/4 cups. Pour the water over the chocolate/cocoa mixture, then whisk until smooth. Sift flours, baking soda, chili powder, cayenne pepper and salt into a bowl and set aside.
In a standing mixer, beat butter until creamy. Add the Splenda and beat until fluffy, about 3 minutes. Add eggs, one at a time, beating well after each one. Add sour cream and vanilla and beat until combined. Add about a 1/3 of the flour mixture, beating just until the flour starts to incorporate, then add about 1/2 of the chocolate mixture, beating just until this starts to incorporate, as well. Alternate between the flour and chocolate until all is added, but DO NOT overbeat.
Using a cookie scoop, transfer the batter into liners until each is about 3/4 full. Bake for 15-18 minutes, or until a toothpick comes out clean. Leave cupcakes in pan for 5 minutes, then transfer to a wire rack. Cool completely before frosting.
For the Frosting:
Place chili powder, cayenne pepper and chocolate in a medium-sized bowl and set aside. In a medium heavyweight pot, heat the cream and butter together over medium heat, until butter is melted and cream bubbles around the edge of the pot. Over the chocolate mixture, pour the heated cream and butter and let sit for about 30 seconds. Start whisking mixture until smooth. Set aside, but stir occasionally with a wooden spoon. It should reach piping consistency within an hour or two.
Source: a 'My Baking Heart' original
http://mybakingheart.com/2010/01/15/happy-2-years-mbh-and-an-iron-cupcake-earth-winter-warm-up-entry/
~~~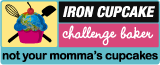 Voting will begin no later than Tuesday, January 28 at 8 pm at NO ONE PUTS CUPCAKE IN A CORNER, and will be open through Wednesday, February 3 at 12 noon.
Iron Cupcake: Earth is a monthly challenge where bakers all over the world compete, creating cupcakes using the same special ingredient. It wouldn't be possible without a lot of people who donate items for prizes and the sponsors for the event. So, special thanks go to:
The Demy™ by Key Ingredient
Hello, Cupcake by Karen Tack and Alan Richardson
Bella Cupcake Couture
Cupcake Stackers by Gourmac
The Cake Mix Doctor Returns! by Anne Byrne
Beautiful Baking Liners by Vestli House
Sweet Cuppin' Cakes Cupcakery