Just like the Brown Sugar-Cinnamon Hot Fudge Sauce, these little jars made it into some Christmas baskets, too… and were really well-received! It's the BEST stuff for smoothing up those rough elbows & dishpan hands and it's literally takes 5 minutes to make. Perfect for last-minute presents, party favors, Chinese gift-exchanges, you name it!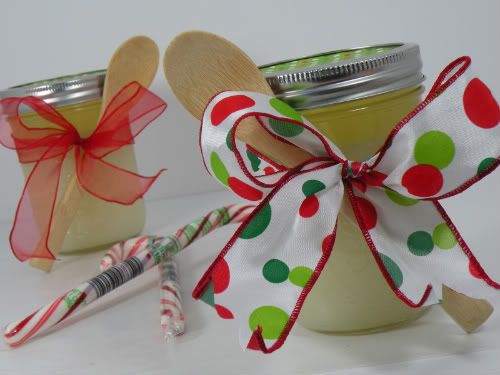 Candy Cane Sugar Scrub
2-1/2 c sugar
2 c vegetable oil
Oil from 2 Vitamin E capsules
10-12 drops essential peppermint oil
2 (16 oz) glass containers with lid
Combine all of the ingredients in a medium bowl until well blended. Using a spatula, transfer mix into the container and secure lid. Contents will settle, mix before using. Scoop a teaspoon or two of the scrub on your hands and gently massage in circular motions onto your skin. Leave on for 3 to 4 minutes before thoroughly rinsing. The scrub will tighten on your skin.