Love, love, LOVE these!! BIG thanks to my good buddy, D, for sending me this recipe. As soon as I read it, I knew I'd be making them the next day. Quick, easy and so yummy! And the best part is, you don't even need frosting… that pretty swirl acts as a perfect cream cheese frosting!
Attention co-workers: get ready for a Tuesday morning treat!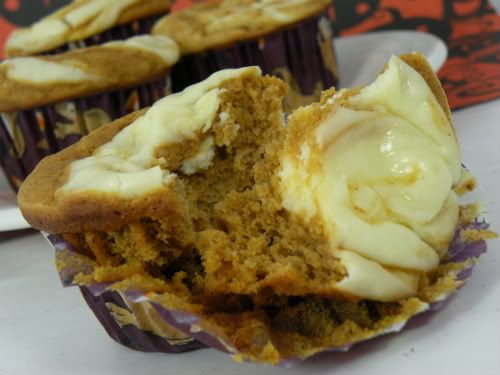 Pumpkin Cream Cupcakes
1 pkg spiced cake mix
1 pkg (3.4 oz) jello vanilla instant pudding
1 cup canned pumpkin
1 pkg (8 oz) cream cheese, softened
1/4 cup sugar (or 2 tbsp Splenda for Baking)
1 egg
Heat oven to 350 degrees F. Prepare cake batter as directed on package. Add dry pudding mix and pumpkin; mix well. Spoon batter into 24 paper-lined muffin cups.
Beat cream cheese with mixer until creamy. Blend in sugar and egg; spoon over batter. Swirl gently with small spoon.
Bake 18-21 minutes or until toothpick inserted in centers comes out clean. Cool before serving.