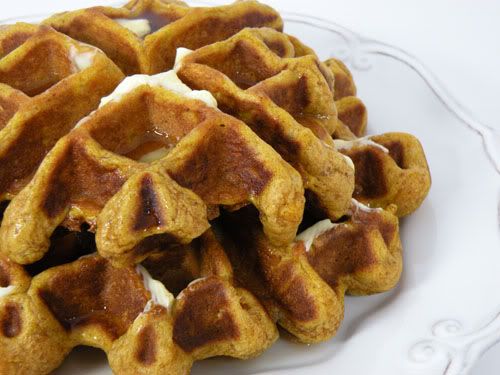 Since I'm in the middle of what I call "business trip-season", I can't make this week's Sweet Melissa Sunday (yummy Fallen Chocolate Souffle Cake) or Tuesdays With Dorie (a Chocolate Souffle, imagine that!).
Instead, I offer you a little Fall treat… Pumpkin-Ginger-Pecan Waffles. See, starting in January, I weirdly count down the days until Fall begins. It's my favorite season – I love the smells, the sights, the holidays, Horned Frog football and the cool weather. Ahhh yes… the weather.
And you can bet that when September 1st rolls around, I will have an Iced Venti Pumpkin Spice Latte (decaf, nonfat, no whip, please!) in my right hand. It's a tiny addiction, but what can I say? It is what it is.
Altered photo by Cherry Street Photography.
So, with Fall on my mind, I arrived home from work and opened up this month's Country Living to find this little gem… the Pumpkin-Ginger Waffle. Admittedly, I went straight to the kitchen and made these for dinner (who doesn't like breakfast for dinner once in a while?). I also changed it up a bit and added pecans… which took them over the top. You know, I think I might even like these better than Chocolate Waffles (for shame!).
Pumpkin-Ginger-Pecan Waffles
Ingredients
1-1/4 c all-purpose flour
1-1/2 tsp baking powder
1/2 tsp baking soda
1/4 tsp Kosher salt
2 tsp ground ginger
2 tsp ground cinnamon
2 lg eggs
3/4 c skim milk
1/2 c canned pumpkin puree
1/2 c granulated sugar
3/4 tsp pure vanilla extract
3 tbsp unsalted butter, melted & slightly cooled
1 c chopped pecans
Instructions
Combine flour, baking powder, baking soda, salt, ground ginger and cinnamon together in a large bowl. Set aside. Whisk eggs, milk, pumpkin, sugar, vanilla and butter together in a medium bowl. Stir in pecans, then combine with flour mixture. Do not overmix. Heat a waffle iron and make waffles, using about 1/2 cup batter per each one.
Adapted from: Country Living, October 2009
http://mybakingheart.com/2009/09/06/pumpkin-ginger-pecan-waffles/