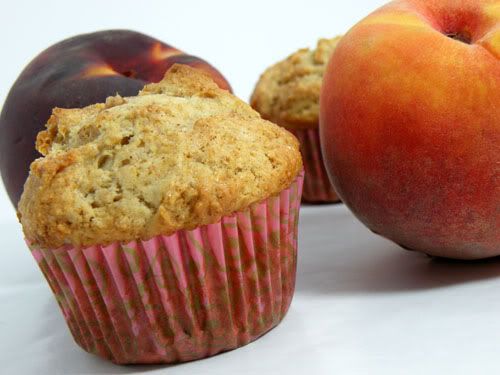 I've been super-busy this past week with high school reunion plans… ordering favors, keeping up with ticket sales, writing announcements, straightening out reservations and answering hundreds of questions. I can't believe it's been 10 years! I'm also preparing for 4 business trips within the next month and a half… so, God knows that when it's time to eat, I need easy and quick recipes to use! Fortunately, that's just what JoVonn of The Givens Chronicles chose for this week's SMS pick!
These were really yummy… especially after I doubled the cinnamon. Perfect for dessert and breakfast the next morning! 🙂 Thanks JoVonn for such a great choice – click on her blog above for the recipe and don't forget to check out the other SMS bakers here!
Ingredients
Ingredients for muffins:

2-3/4 c all-purpose flour
1 tbsp + 1 tsp baking powder
1/2 tsp Kosher salt
1/2 c granulated sugar
1/2 tsp ground cinnamon
8 tbsp unsalted butter, melted
1/3 c light brown sugar, firmly packed
2 lg eggs, at room temperature
1/4 c heavy cream, at room temperature
6 tbsp whole milk, at room temperature
1-1/2 tsp freshly grated orange zest
1 c peaches, cut into 1/4-to 1/2-inch pieces
1 tbsp cinnamon sugar, for sprinkling

Ingredients for Cinnamon Sugar:

1-1/2 tsp ground cinnamon
1/2 c granulated sugar
Instructions
Position a rack in the center of your oven and preheat to 350 degrees F. Line a standard 12-cup muffin tin with liners (or butter and flour the cups or spray with nonstick vegetable cooking spray).
In a large bowl, whisk together the flour, baking powder, salt, 1/2 cup of granulated sugar and 1/2 teaspoon of cinnamon. In a small bowl, combine the remaining cinnamon and sugar. Set both aside.
In a medium bowl, whisk together the melted butter, brown sugar and eggs until no lumps remain. Whisk in the heavy cream and milk until combined. Add the zest to the flour mixture and with your hands, gently rub the mixture together, releasing the oils and breaking up the bits. Add the peaches and gently toss with your fingers to combine. Make a well in the center of the bowl. Pour the butter mixture in the center of the well and, using a rubber spatula, gently pull the flour mixture into the center of the well until just combined.
Evenly divide the batter among the prepared muffin cups, filling each cup until full and sprinkle with cinnamon sugar. Bake for 30 to 35 minutes, or until lightly golden and a wooden skewer inserted in the center comes out clean. Remove to a wire rack to cool.
Source: The Sweet Melissa Baking Book by Melissa Murphy
http://mybakingheart.com/2009/08/30/sweet-melissa-sundays-fresh-peach-muffins/