Because I left Santa Fe with so many yummy recipes, I've decided to spread them out over the next few weeks. The class was titled "Southwest Barbeque", but almost all of these dishes have a Fall-feel to them and most certainly shouldn't be associated with only Summer and Barbeques!
Chile-Glazed Baby Back Pork Ribs
Source: Santa Fe School of Cooking
Serves 6
6.5-7 lbs baby back pork ribs
Marinade (recipe follows)
2 tbsp honey
Romaine lettuce
thinly sliced radishes
slivers of white onion
sprigs of fresh cilantro
Place the ribs in a long roasting pan and paint them with half of the marinade. Cover and refrigerate for several hours or overnight. Add the honey to the remaining marinade, cover and refrigerate.
Preheat the oven to 350 degrees F. Transfer the ribs and all their marinade to a roasting pan or sheet pan large enough to hold them in a single layer. Drizzle water around them to a depth of about 1/4″ and bake, covered with foil for about 45 minutes. Uncover and return to the oven for an additional 30 minutes. Carefully remove the fat and any remaining juices.
To glaze, raise the oven temperature to 450 degrees F or heat a grill. Brush the ribs heavily with the remaining marinade and bake the ribs until they are a deep cranberry color, about 15 minutes.
To serve, line a serving platter with the romaine leaves, pile on the ribs and sprinkle with sliced radishes, slivers or onion and sprigs of fresh cilantro.
To prepare under time constraints, try this method: cut the ribs apart and braise for 90 minutes with 1/2 a can of beer, salt, pepper, chipolte seasoning and a drizzle of olive oil. After braising, cover the ribs with marinade and bake in the oven for 20 minutes.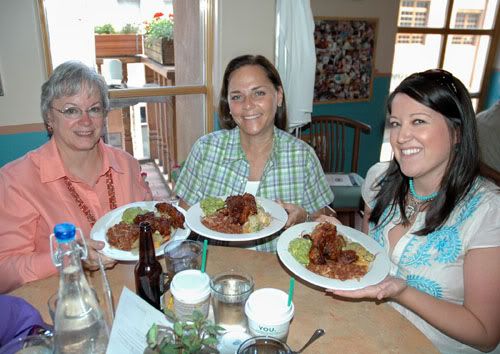 Chile Marinade
6 garlic cloves, unpeeled
5 dried Ancho chiles (2 oz), stemmed and seeded
9 dried Guajillo chiles (2 oz), stemmed and seeded
3 dried Morita chiles, stemmed and seeded
1-1/4 tsp dried Mexican oregano (similar to Verbena)
3/4 tsp ground canela
1/4 tsp freshly ground black pepper
pinch of ground cloves
1/2 tsp freshly ground cumin
3 tbsp cider vinegar
3/4 c broth or water, plus more if needed
salt to taste
2 tsp sugar or honey
Heat a small heavy skillet over medium and roast the garlic, turning occasionally, until blackened and soft, about 10 minutes. Cool and peel. Toast the chiles on a hot surface (about 300 degrees F), pressing with a metal spatula until they start to crackle, then turn them and toast the other side. Be careful not to burn the chiles. Place the chiles in a small bowl and cover them with hot water. Let stand for 30 minutes. Drain the chiles and discard the water.
In a blender, whirl the peeled garlic, soaked chiles, oregano, canela, pepper, cloves, cumin, vinegar and broth or water to a smooth puree. If the mixture seems too thick, add a little more liquid. Press the puree through a strainer into a bowl. Add the salt and sugar or honey to taste.
With Chef Noe & Instructor Susan – we had so much fun!